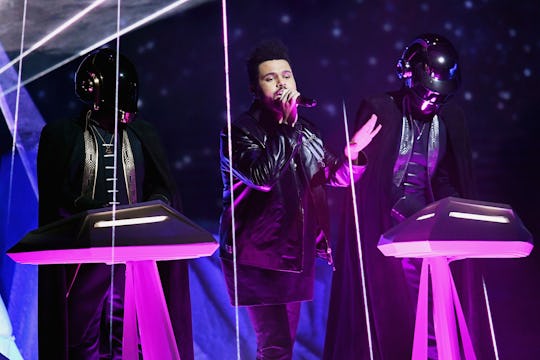 Kevin Winter/Getty Images Entertainment/Getty Images
Grammys Memes About The Weeknd Are Everything
Music's biggest night is officially here, ladies and gentleman! Yes, that's right, the 2017 Grammys have arrived, and while the night has been filled with glitz, glamour, Beyoncé, laughs, cries, Beyoncé, and so much more (Beyoncé), perhaps one of the best parts of the night was scrolling through the various reactions, memes, and jokes about The Weeknd, who performed at the show with Daft Punk. The Canadian singer-songwriter is pretty well-known across the internet for having a very meme-able face, and his honest reactions to the craziness around him are honestly so relatable. So, if you've found yourself missing the actual Grammys, or maybe you just need a break from this political hellfire we seem to constantly be engaged in, please feel free to sit back, relax, and enjoy Twitter's expert analysis.
Honestly, the fact that The Weeknd is reportedly dating goddess Selena Gomez has made me love him even more, but now, after tonight, my love has exponentially grown. And thank goodness for Twitter, too. The internet had no chill tonight in engaging in a bit of fun on one of the biggest nights of the year, and I, for one, am eternally grateful. So, now, I officially present to you the best memes from the night. (You can thank me later.)
The Weeknd and Daft Punk took the stage to perform his latest hit single, "I Feel It Coming," and while the vocals were amazing, Twitter users couldn't help but point out the futuristic seeming theme the duo had going during the song.
The two performers were introduced to the stage by Paris Jackson, daughter of the late Michael Jackson. Notably, The Weeknd's musical sound, especially his genre-bending hits, are very reminiscent of Jackson himself, as many have noticed since his rise to fame.
And while the memes were on point following his performance, of course there were plenty of quality jokes about the performance as well.
Really, though, the performance was on point, and I'm pretty positive he made Selena Gomez proud, as Twitter users also speculated.
While the couple is a relatively new development, they were spotted in a romantic restaurant in Florence, Italy last month. And as Gomez has been nothing but a supportive friend, it would only make sense that she would be there for her new babe, in whatever way she can.
All in all, The Weeknd and Daft Punk's performance Sunday was great, and if nothing else, Twitter seems to have had a fun time with it as well.