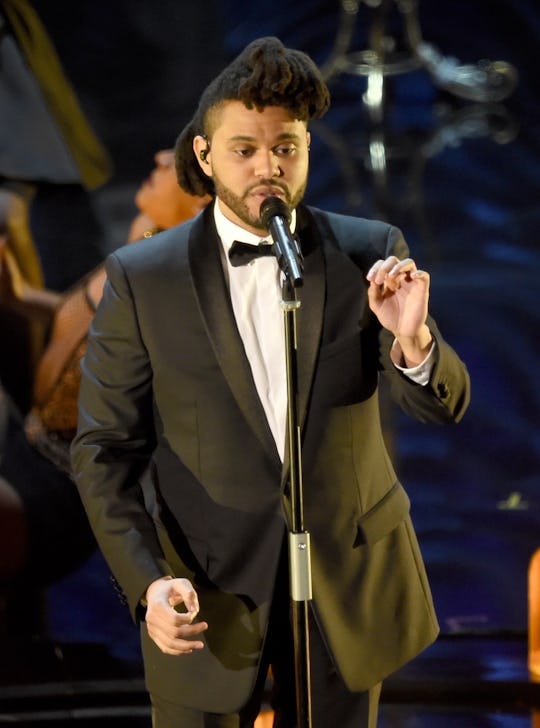 Kevin Winter/Getty Images Entertainment/Getty Images
The Weeknd Surprises On 'SNL,' & Makes Future's Performance Of "Low Life" A High For The Night
Future may have began his appearance on this week's Saturday Night Live performing "Jumpman" during the monologue with host Jonah Hill — who was singing Drake's parts of course — but his real performance later on featured another special guest. On SNL, Future performed "Low Life" with The Weeknd, and no offense Jonah, but you can maybe take a page out of The Weeknd's book on being a suprise performer, because he killed it.
The "surprise" really doesn't come as that big of a surprise, since both Future and The Weeknd hinted at the performance earlier in the week. Future tweeted "#lowlife4life" on Thursday, while The Weeknd showed that he was in New York City on Instagram early on Saturday.
This is not the last we'll hear of "Low Life." It's likely that the song will be the rapper's next single. Several days prior to SNL, Future revealed on his Snapchat that he and The Weeknd are filming a music video for the song. Additionally, the rapper shared a photo on Instagram of he and The Weeknd under dim lights. Fellow rapper French Montana also snapped a photo on set, though it's unclear if he will actually be in the video.
Saturday's episode marks Future's first performance on SNL — even though EVOL is his fourth studio album. "Low Life" also marks The Weeknd's third appearance on the show in two seasons — first as a featured guest for Ariana Grande, and then on his own as the episode's musical guest in Oct. 2015.
Future helped host Jonah Hill kick off the show with a sans Drake-performance of "Jumpman" from Future and Drake's joint album What A Time To Be Alive. Future came out on stage with his extravagant fur coat and agreed to rap with Hill. Surprisingly, Hill proved to be a worthy rap partner — and Future was a good sport about the substitute.
The rapper also made an appearance during the show's "Weekend Update," though briefly. The anchors attempted to test out a new segment entitled "News from the Future," which cut to the rapper in what looked like a room backstage. He did not look amused — and said he thought he nixed the segment idea, and it was cut short moments later.
While this was Future's first time on SNL, his stage presence and sense of humor shined. It certainly won't be his last appearance; if he follows in The Weeknd's footsteps, he might be on the show again sooner than we think.