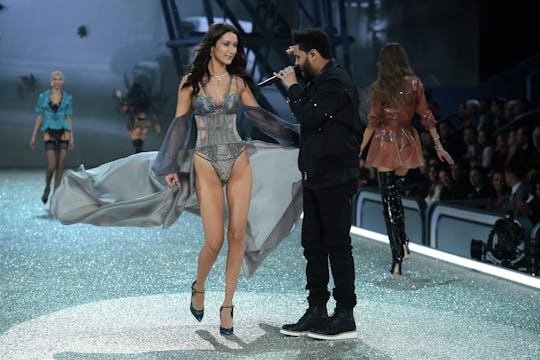 Dimitrios Kambouris/Getty Images Entertainment/Getty Images
The Weeknd's Performance At The Victoria's Secret Fashion Show Reunited Him With His Ex
You know when you go somewhere you know your ex is going to be? You know how important that moment it to show your former S.O. that you're doing much better without them? Yeah, that's 100 percent Bella Hadid during the Victoria's Secret Fashion Show. Seriously, just about everyone who has had an awkward run-in with their ex will appreciate The Weeknd's performance at the Victoria's Secret Fashion Show. The "Starboy" singer performed for the second consecutive year, but this time around, it was a little different.
Let's be honest, all eyes were on these two during the Victoria's Secret Fashion Show. While it was exciting and all that jazz to see The Weeknd perform, I think we were all waiting to see just how he interacted with Hadid. And, well, that interaction did not disappoint.
But, if you were worried there was animosity on the runway, do not think too much about that. There really wasn't any drama on the runway (that we know of). From what the show aired (and from reports from the show), things actually weren't that awkward. In fact, the former couple seemed to be 100 percent supportive of each other. Yup, that stare down wasn't a negative at all. (Come on, you saw that little waist grasp, too, right?)
The Weeknd took to the Victoria's Secret Fashion Show stage to perform "Starboy", which took down the house. It was the perfect blend of sexiness and pop, exactly what the show strives to be.
Hadid posted the above photo after the famous runway walk. The caption, which was long, included a quick shout out to her former flame that read, "Thank you @theweeknd for being the best and most incredible performer on the planet. You KILLED it, as always..." with a couple heart emojis.
Editor's Note: The above referenced Instagram post has since been deleted.
According to People, the two didn't end their relationship because of any specific incident. Instead, it seemed to be something much more normal than anything a drama-seeker could possibly imagine. Time. a source told People exclusively that the two's schedules became "too hard to coordinate," while he finished his album. "They still have a great deal of love for one another and will remain friends," People reports. At least we know there was no animosity for the two as Hadid lived her ~dream~.