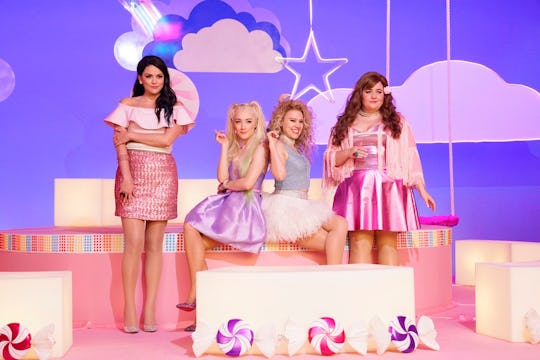 Rosalind O'Connor/NBC
'SNL' Gets Real About Sexual Harassment & It's A Song You Need To Hear
Saoirse (pronounced like 'inertia') Ronan hosted Saturday Night Live on December 2, and in one of the first skits of the episode took part in the anthem women in America have been waiting for since basically always. The "Welcome to Hell" song on SNL shows that sexual harassment for women is nothing new. Some out there may be sad that now they can't watch some of their favorite shows anymore because of this, but Saturday Night Live just listed off a whole bunch of things that have been ruined for women. Spoiler alert: it's not a short list and it's hilariously true.
A recent episode of Saturday Night Live brought America the Boys II Men-inspired slow-jam "Come Back Barack," which was about how much the United States misses the 44th President of the United States. So on Saturday, Ronan joined Cecily Strong, Aidy Bryant, and Kate McKinnon as a girl group — perhaps modeled after something like the Spice Girls — to talk about how the world just now seems to be learning about the harassment women have been dealing with since forever. Of course, in the lyrics they later clarified that they're not really a girl group: "we just travel together for safety." And based on Twitter's reactions, the message clearly resonated with a lot of other women.
At one point Ronan sings, "Now House of Cards is ruined and that really sucks. Well, here's a list of stuff that's ruined for us." The list includes parking, walking, Uber, hotels, ponytails, and of course vans. Everyone knows that nothing good ever happens in vans. The reference to House of Cards was, of course, a reference to the show's lead actor Kevin Spacey, about whom allegations of sexual misconduct have recently surfaced. The song as a whole is about the fact that predatory men, in general, are currently experiencing a reckoning. And anyone who is surprised by this probably hasn't been paying attention.
Some seem rather dismayed by the fact that so many powerful men have been outed as serial sexual harassers, abusers, and rapists. Many of them were at one point widely respected. It started with The New York Times exposé, which detailed years of allegations against Hollywood giant Harvey Weinstein. This seemed to set off some sort of domino effect. Suddenly, allegations surfaced against dozens of powerful and well-known men, finally highlighting that harassment is a real thing and it happens to women constantly.
And for those out there wondering why women didn't just say something before, the skit quickly cuts to Melissa Villaseñor dressed as a 17th century woman tied to a tree being burned as a witch. In another helpful and teachable moment, Leslie Jones joined the other women on stage to remind them, "You know it's like a million times worse for women of color?"
As a woman, I regularly experience sexual harassment because, as the song jokes, I also have boobs. So while yes, I also think it's a bummer that I can no longer think of House of Cards the same way or enjoy the stand-up of Louis C.K., I am so unreservedly thrilled that sexual predators are finally being exposed, regardless of who they are or what their job title may be. Women have been silenced for far too long, but as this amazing SNL skit clearly demonstrates, that's all changing now. Harassers are being put on notice.
Sure, these past few months may have seemed like hell to many people, but like the song emphasizes, it's a hell that women are already much too familiar with.
Check out Romper's new video series, Romper's Doula Diaries:
Watch full episodes of Romper's Doula Diaries on Facebook Watch.