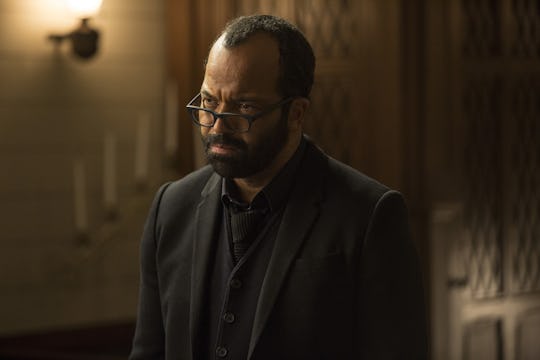 John P. Johnson/HBO
The 'Westworld' Season 2 Trailer Aired During The Super Bowl & It's Intense AF
"Have you ever questioned the nature of your reality?" It feels like forever ago since this iconic Westworld line was delivered, but it won't be long now until the widely popular HBO series will be back on our screens once again. And judging from the first Westworld Season 2 trailer, which was released during Super Bowl Sunday, this upcoming installment is going to be just as addictive as its predecessor.
Of course, fans knew the trailer was coming, as its debut was announced a very days prior to the big game. But while Entertainment Weekly reported that parts of the footage would be "exclusive to the trailer" (meaning not all the footage would appear in Season 2), there were definitely portions of the video that teased what we can expect for these beloved characters once the second season kicks off. (Yes, I just made a football pun in honor of the Super Bowl. Please feel free to be impressed.)
For example, Bernard (played by Jeffrey Wright) can be seen looking pretty unhappy about something as a creepy figure lurks behind him in the background. Could this be a host that's currently in the process of being made? It seems to resemble what we've seen of the hosting process in the past, so I'd wager yes, but regardless, it's definitely unsettling to see. Also, what is Bernard doing with it? Doesn't his expertise come into play once the hosts are fully functional? Also, why the hell is it moving?!?!
Obviously, the entire trailer (which includes a cover of Kanye West's "Runaway") raises a ton of new questions for diehard fans. But if I had to describe the clip in one word it would be this: intense. Don't believe me? Just see for yourself:
Dolores serves as the narrator throughout the trailer, which shows a variety of familiar faces including the Man in Black and Maeve. "This world is a lie, and we'll burn it to the ground and build a new world, our world," she can be heard saying. And don't even get me started on the robotic bulls that are a surprisingly main focus throughout the entire thing. Does this mean they'll play a big role in the next season? It's possible, but either way I am here for it. But also, I'm kinda terrified.
This is the first time in 20 years that HBO has purchased commercial time during the Super Bowl. It happened twice before, in 1997 and 1998, according to Entertainment Weekly. And, as we all know by now, given how popular the Super Bowl is, purchasing air time when the game is on has to cost a pretty penny. In fact, according to Sports Illustrated, NBC will average more than $5 million for a 30-second spot. That's a ton of money for a very short amount of time. So I had a feeling the network was going to make sure the trailer was worthwhile and I can honestly say it did not disappoint. Was it worth $5 million? Well, it's not my money so I guess so!
Along with the actual footage, at the end of the clip, the official premiere date for Westworld Season 2 was revealed as well. Prior to this, fans only knew that the series was expected to return sometime in 2018 with more details to be on the horizon. However, the trailer provided an answer to that question, confirming that Season 2 will debut on Sunday, April 22 of this year. Sure that's still a little ways away from now, but I think this trailer more than proves that it'll be well worth the wait and that these violent delights will once again have violent ends.
Check out Romper's new video series, Romper's Doula Diaries:
Watch full episodes of Romper's Doula Diaries on Facebook Watch.