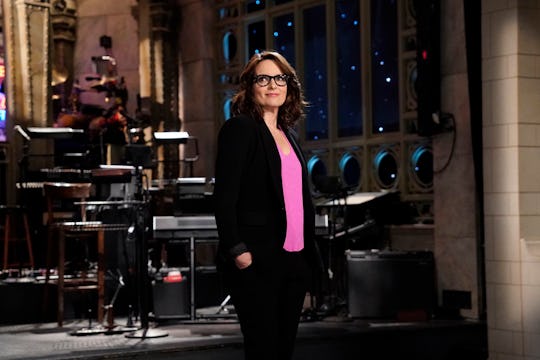 Rosalind O'Connor/NBC
Tina Fey Revisits Her Sarah Palin Impression On 'SNL'
Tina Fey opened the Saturday Night Live season finale by remarking on the fact that it had been twenty years since she began working on the show. In that time, she crafted many memorable characters and unforgettable bits. But her impression of Sarah Palin might have been one of her most successful, so it was pretty exciting to see her revisit the character in the "What I Did For Trump" musical on SNL.
Set to the tune of "What I Did for Love" from A Chorus Line, the song brought Fey's Palin together with several other key political figures. But she started the skit all on her own, joking that she was the ghost of Sarah Palin before offering a refresher on who she was just in case anyone needed it. She pointed out that she was the first woman on a Republican ticket and, while she may spend her time on Twitter and Dancing with the Stars these days, she still knew a thing or two about politics. Fey's impression was just as on-point as ever: from the look to the voice, she captured Palin as perfectly as she used to years ago.
Fey's Palin proved to be the ideal choice to lead a song about the Trump White House, even though the real Palin hasn't been quite that involved.
Fey's Palin encouraged the members of Trump's team to enjoy their moment in the spotlight just like she did when she ran, because they never knew how long it would last. As she launched into the number, she was joined by Aidy Bryant as Sarah Huckabee Sanders, who remarked on how funny it was that they were both named Sarah when they were "classic Beckys." Palin complimented Sanders on being the Screech of the White House: everyone else had graduated, but she was sticking around no matter what.
Quite a few more characters appeared to add in a verse or join the chorus, singing all about their regrets, their memories, and their future plans. Kate McKinnon descended from the ceiling as Kellyanne Conway to belt about how she would never be gone, and then Fred Armisen jumped in as Michael Wolff, the author of Fire and Fury. Cecily Strong was carried in next as Stormy Daniels, joking in song that the administration might wish she was gone but she would be remembered; you could even catch her upcoming TED Talk if you liked. John Goodman appeared as Rex Tillerson, the latest in a long line of celebrity cameos in Fey's episode. Leslie Jones closed out the song as Omarosa, who insisted that she had fired herself and everyone could "kiss my a** goodbye."
Each character shared the things they had to do for Trump, with Fey's Palin interjecting that she would definitely be up for working with him too. They finished up in a resounding chorus in which they sang, "We did what we had to do / Won't forget, can't regret / What I did for Trump!" Fey got in the last word, however, and it was a key DWTS tip: don't do a quickstep on the first week because it's just too darn hard!
Though it might have been a teensy bit of a stretch to find a way to work Fey's popular impression into the current political landscape, audience members welcomed her tackling the character one more time. She fit seamlessly into the skit, standing out amongst the other similarly broad characters and getting in a few more classic quips. Seeing Fey play her version of Palin is always fun, and it was a great way to end this season of SNL.