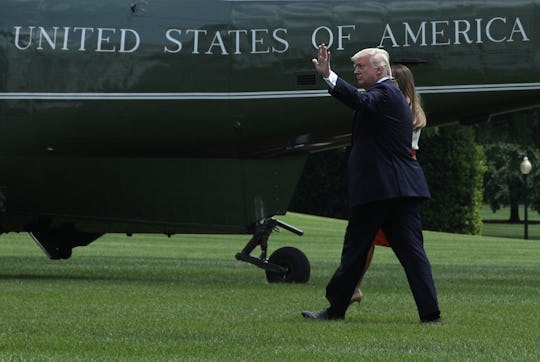 Alex Wong/Getty Images News/Getty Images
The White House Is Reportedly Researching Impeachment Procedures
President Donald Trump is not a stranger to criticism. People have been calling for the president's removal from the Oval Office even before he took the oath of office. But now it might be serious. According to CNN, the White House is researching impeachment procedures as the president continues to come under fire.
On Friday, sources told CNN that White House lawyers had reportedly begun researching impeachment procedures in efforts to prepare for the possibility that the president could "have to fend off attempts to remove him from office." Yikes. White House lawyers have reportedly been hard at work this past week, consulting experts in impeachment and collecting information about how the proceedings of impeachment might work. This is smart — because one of the first lessons you learn in life is to be prepared for anything that comes your way. This news comes on the heels of reports on Friday that the president called former FBI Director James Comey a "nut job" in front of Russian officials last week. But in order for impeachment to happen, the House will have to prove an obstruction justice or corruption — which, according to Slate, don't sound too far off.
What does this research done by White House attorneys mean for Trump? According to CNN, it means that there is only a bigger effort inside of the White House to strengthen Trump's legal defense. It's wise; after all, this presidency has taught every one to truly expect the unexpected.
The White House did not respond to Romper's request for comment.
Does this mean that congress will proceed with impeachment procedures? The jury is still out on that one. While Democratic Congressmen have been sending mixed messages about whether or not they want the president out of the White House, according to the New York Times, Democratic leaders have tried to slow calls for them to impeach the president. But even with some Democrats calling for Trump's impeachment, according to CNN, White House officials do believe the president has "the backing of Republican allies in Congress and that impeachment is not in the cards." Because of his strong Republican allies, according to Salon, it is highly unlikely that Republican congressmen will agree on impeachment and give enough votes to generate a successful vote for impeachment in Congress.
While impeachment might be out of the question for now (or at least, until the Republicans come around), White House attorneys researching impeachment only means that they're doing just that — their research. And if Republicans come around to the idea of impeachment, well, at least White House attorneys will have a good idea on what to do when that time comes.