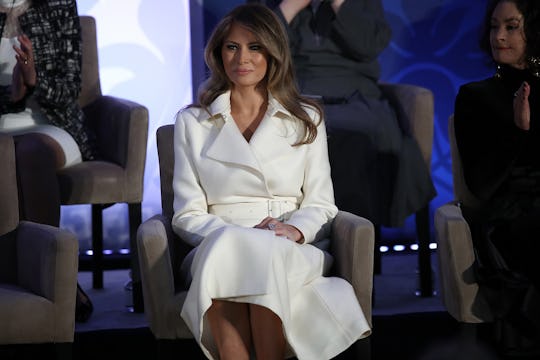 Win McNamee/Getty Images News/Getty Images
White House Reveals Melania Trump's First Portrait
The low-profile first lady, who has been living apart from President Donald Trump, has made few public appearances since the beginning of her husband's presidency. But Melania Trump went to the White House to participate in a longstanding tradition for the first lady: taking her first official portrait. The White House has just revealed the first portrait of Melania Trump.
The portrait was photographed by Regine Mahaux, The Hill reported, and it was taken in the White House the day after President Trump's inauguration.
For many years, official portraits of the first lady were painted. Even recent first ladies, such as Hillary Clinton and Laura Bush, have White House portraits that are painted. Melania Trump's portrait is a photograph, much like Michelle Obama's White House portrait is.
There's something about the photo that feels a bit...off. While Harper's Bazaar noted the sequined scarf and two rings on Melania's fingers, Melania isn't the first First Lady to be blinged-out for her White House portrait. Mamie Eisenhower wore a sequined pink dress and gloves appropriate for a 1950s prom, and Barbara Bush wore a brooch and huge pearl earrings.
Twitter users had a few comments, which ranged from hilarious memes recreating her photo and confusion regarding how serious it seems:
There's also something about the portrait that feels very stern. Melania's arms are crossed, which body language experts report signifies that the person may be feeling defensive or distant.
Then there's the expression on her face, which The Hill described as "a slight smile" (I don't see it). While I definitely am an advocate of ending society's need to tell women to smile, most of the other first ladies are smiling in their portraits, which sets Melania's apart. Her all-black attire also adds an air of seriousness to the photo. Perhaps the photo simply reflects Melania's personality; she's been noted for having a "fixed smile," while paparazzi have noted rarely seeing her since becoming first lady, calling her "elusive."
"Melania Trump's portrait does not give the viewer a sense of who she is, it does not communicate 'First Lady,'" Michael Martinez, a professor of photojournalism at the University of Tennessee Knoxville, tells Romper. "The background appears to be a large window, but it does not give a sense of 'White House' or some other symbol of the First Lady."
What's interesting is that in many ways, Melania's first portrait mirrors her husband's first portrait, which was taken back in January. Vox called the look on Trump's face "arguably menacing," while presidential photography experts found the photo unique. Cara Finnegan, a professor of communication at the University of Illinois Urbana-Champaign, said that it makes sense for Trump to take a serious portrait when he has consistently projected a tough image, according to Vox:
If you supported Donald Trump in the election, this might be an image of a very serious man for a serious time; he might look very committed and patriotic. But if you opposed Donald Trump, you might find the opposite to be true.
So perhaps Melania's portrait comes across as intimidating not because it fits her image, but because it fits her husband's image.
And since the first lady will remain in New York City with son Barron and Trump's daughter Ivanka now has an official White House position, it will be interesting to see if the first daughter will get an official portrait as well.