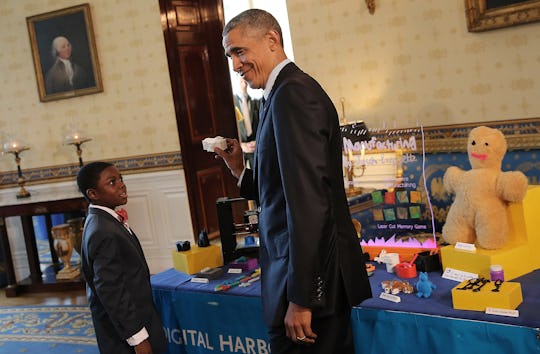 Win McNamee/Getty Images News/Getty Images
The White House Wants Kids' Science & Technology Ideas, & Here's How To Get Involved
Budding scientists are about to have their ideas heard in the Oval Office. The White House wants kids' science and technology ideas, and children from all over the country are invited to get involved. Students can thank Maryland third-grader Jacob Leggett for inspiring the opportunity, according to CBS Baltimore: while taking part in the sixth White House Science Fair, he asked President Obama whether he'd ever had a "kid science advisor." Though Leggett attended the fair in order to share his 3-D printer creations, his pitch would end up having a national impact.
On Thursday, Obama awarded both National Medals of Science and National Medals of Technology and Innovation, USA Today reported. While speaking in the East Room, he also announced his call for ideas from kid scientists. Though adults populate the Council of Advisors on Science and Technology, Obama wants to hear specifically from children.
Kids can submit science ideas to the White House through an online form. Obama is interested in students' strategies for tackling major problems, from climate change to cancer. He's also hoping for kids' input on STEM education: how it's working in schools across the country and how it can be improved. Children can share questions and let the president know what they're working on in their communities.
Obama is a big believer in the importance of kids' contributions to scientific innovation. The White House shared his thoughts from the 2016 Science Fair:
One of the things I find so inspiring about these young thinkers is that they look at all these seemingly intractable problems as something that we can solve. There is a confidence when you are pursuing science. They don't consider age a barrier. They don't think, well, that's just the way things are. They're not afraid to try things and ask tough questions.
Since taking office, Obama established a reputation for being a strong supporter of the sciences. He committed to restoring "science to its rightful place" during his first inaugural address, according to MSNBC, and many of his policy decisions reflect that goal. The president reopened pathways to stem cell innovation that the Bush administration closed, advocated for integrity in the realm of research, and worked toward clean energy solutions for the country. During this year's State of the Union, he announced the National Cancer Moonshot to support and accelerate oncology research, placing Vice President Biden at the helm. But just as Obama is dedicated to creating pathways for professionals to do their work more efficiently and effectively, he also appreciates the importance of raising a strong generation of young innovators to solve the problems of the future. Obama's commitment to supporting kids in the sciences emerged when he founded the White House Science Fair, MSNBC reported; Obama said:
If you win the NCAA championship, you come to the White House. Well, if you're a young person and you've produced the best experiment or design, the best hardware or software, you ought to be recognized for that achievement, too. Scientists and engineers ought to stand side by side with athletes and entertainers as role models, and here at the White House we're going to lead by example. We're going to show young people how cool science can be.
Obama isn't just mobilizing children to pursue careers in science; he's taking their input now. The White House form invites kids to share what they love most about STEM fields while also asking them to pitch ideas to make the "country work better using science and technology." All submissions are due by Friday, June 17, 2016 at 11:59 p.m. Eastern Time. The White House reported that there will be more opportunities to contribute going forward, so young scientists can count on their voices being heard.