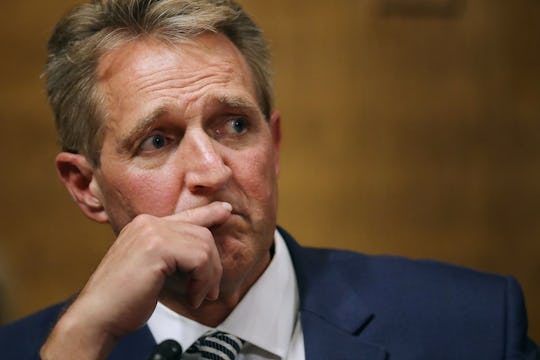 Chip Somodevilla/Getty Images News/Getty Images
The Survivors Who Confronted Sen. Jeff Flake Are Now Being Hailed As Heroes
This week, Dr. Christine Blasey Ford sat before the Senate Judicial Committee to testify against Brett Kavanaugh's nomination, citing concerns about his character regarding his alleged sexual misconduct when the two went to school together. Despite the uproar of support for Dr. Blasey Ford, on Friday morning, Senator Jeff Flake confirmed he would still be voting "yes" for Kavanaugh's confirmation. Shortly afterwards, he was confronted by sexual assault victims, demanding an answer in response to his apparent disregard for the issues at hand. Now, the women who confronted Sen. Flake are being hailed as heroes, as he has called for a full FBI investigation of Kavanaugh's purported misconduct.
NPR reported that Arizona senator Flake has requested that Kavanaugh's nomination be delayed by one week so that the FBI can investigate the allegations against him. "What I do know is that our system of justice affords a presumption of innocence to the accused, absent corroborating evidence. That is what binds us to the rule of law," he said, continuing to explain his decision. "While some may argue that a different standard should apply regarding the Senate's advice and consent responsibilities, I believe that the Constitution's provisions of fairness and due process apply here as well."
Earlier today, CNN reported that a group of women approached Flake in an elevator before he cast his vote for Kavanaugh to move forward that morning. With the elevator door held open and nowhere for Flake to turn, the women asked him whether or not he understood the consequences of electing Kavanaugh, and the message it sends to allow someone with an alleged history of assault and abuse to be presiding over the United States' legal system.
"That's what you're telling all of these women, that's what you're telling me right now. Look at me when I'm talking to you. You're telling me that my assault doesn't matter, that what happened to me doesn't matter, and that you're going to let people who do these things into power," one protestor said to Flake. That's what you're telling me when you vote for him. Don't look away from me. Look at me and tell me that it doesn't matter what happened to me, that you'll let people like that go into the highest court of the land."
Two of the women that confronted him, Maria Gallagher and Ana Maria Archila, took to Twitter to express their gratitude that their requests were taken seriously. "I feel relieved that @JeffFlake seems to have heard my and @AnaMariaArchil2's voices in the Senate elevator today," Gallagher tweeted. "We absolutely need an FBI investigation and for him and all Senators to vote NO."
This isn't altogether surprising, considering that Flake did previously express that he wasn't completely convinced of Kavanaugh's innocence. "I wish that I could express the confidence that some of my colleagues have conveyed about what either did or did not happen in the early 1980s, but I left the hearing yesterday with as much doubt as certainty," Buzzfeed News reported the Senator said.
CNN reported that on Thursday, Blasey Ford opened her testimony with a prepared statement, in which she shared the following:
I am here today not because I want to be. I am terrified. I am here because I believe it is my civic duty to tell you what happened to me while Brett Kavanaugh and I were in high school. I have described the events publicly before. I summarized them in my letter to Ranking Member Feinstein, and again in my letter to Chairman Grassley. I understand and appreciate the importance of your hearing from me directly about what happened to me and the impact it has had on my life and on my family.
She continued to explain that Kavanaugh's actions have had a profound and lasting impact on her life, despite how many years ago they occurred. Blasey Ford is being hailed for her bravery, and seen by many as an advocate for victims of sexual assault whose fears of not being believed are preventing them from coming forward.