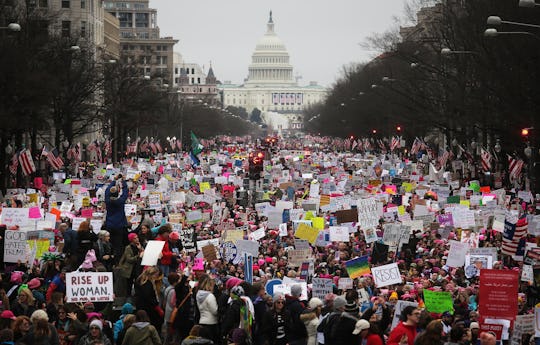 Mario Tama/Getty Images News/Getty Images
This March Action Plan Will Keep You Accountable
The Women's March on Washington might be over, but the massive demonstration was actually just the beginning of something far larger: the Women's March 100-day action plan is an actionable way for supporters to ensure that the passion they felt on Saturday continues to fuel change in the country over the next few months. The Women's March on Washington's new campaign aims to get supporters taking a new action every 10 days, giving Americans a step-by-step, plug-and-play way to continue to make a difference.
The Women's March on Washington hasn't released all 10 actions in its 100-day plan yet, but the first one is now available online. The first step? According to the Women's March website, the instructions read:
Write a postcard to your Senators about what matters most to you - and how you're going to continue to fight for it in the days, weeks and months ahead. ... You can go it alone, or consider inviting some friends, neighbors and fellow Marchers over for a drink or dinner sometime in the next ten days to talk about your experience and fill out your postcards.
If you're not the craftiest type, or you know you won't get over to the post office, don't worry: the group offers free postcards that supporters can print out and use to send their senators. The postcards can be printed at home or printed professionally, and 10,000 supporters will be able to send their postcards straight from their phones, for free, through the Ink Cards app (this seems to be a first come, first serve situation).
"Write down your thoughts," the Women's March group suggests online. "Pour your heart out on any issue that you care about, whether it's ending gender-based violence, reproductive rights and women's health, LGBTQIA rights, worker's rights, civil rights, immigrant rights, religious freedom, environmental justice or anything else."
Supporters are then encouraged to take pictures of their postcards, share them with the hashtag #WhyIMarch, then mail the cards off to their senators. The Women's March website also has a handy tool available for those who need to look up their senators: simply enter your zip code and you'll receive a list of your representatives.
The first step seems doable enough. For those interested in taking action for the next 100 days, you can also sign up for notifications when each new action is released. But don't let the 100-day action plan limit your activism either: for those who are searching for more, there are plenty of other ways to keep that activist fire alive after the inaugural weekend's protests.