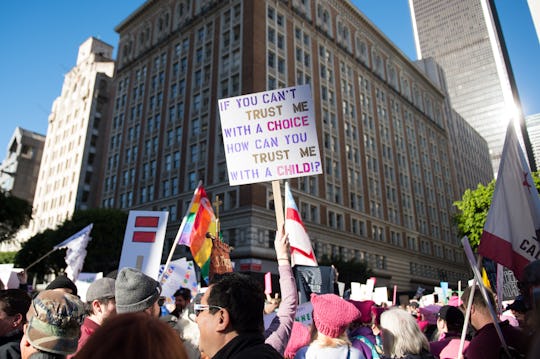 Emma McIntyre/Getty Images Entertainment/Getty Images
The Women's March Calendar Of Events Suggests The Movement Will Persist Into The 2018 Elections
Last year's Women's March became the largest single-day protest in American history, and the organizers weren't about to chalk it up to just a one-time thing. A bunch of nasty women came together to plan another march for this year, plus a whole slew of events for the whole calendar year. This year's official march will take place in Las Vegas, Nevada, but there are already more than 670 planned sister events around the world and the Women's March calendar of events, (which you can see here) in some cities suggest that you might be hearing chants of "respect existence or expect resistance" all year long.
The Women's March organizers are galvanizing people in Las Vegas at Sam Boyd Stadium from 10 a.m. to 4 p.m. Pacific Standard Time on Saturday, according to the site. The main event will feature singer Faith Evans and speakers including Melissa Harris-Perry and actress Marisa Tomei, plus activists from organizations like Planned Parenthood and Black Lives Matter — together, they'll be kicking off the #PowerToThePolls initiative, which is focused on getting new voters to register via a mobilization tour that'll target swing states, according to the site.
Anyone interested in participating in the main event can register through the Women's March site through Jan. 23, according to the RSVP page. There are several transportation options to get to Sam Boyd Stadium from around the Las Vegas area outlined on the site, as well; the routes have been organized based on demand from surrounding cities.
To date, there are also 673 planned marches and an estimated 4,956,422 marchers, according to the Women's March "Sister's Marches" page. There are events planned as far away as Kenya, Saudi Arabia, India, Indonesia, Australia, and New Zealand, and there are marches in almost every state in the United States. Those interested can find marches in their local areas by using the zip code search finder on the site. For anyone in an area without a march already planned, the site offers an event planning toolkit to learn more about organizing one in your own community, too.
The biggest marches in the U.S. are still likely to be in Washington, D.C. and New York City, The Huffington Post reported. Those close to the D.C. area can find marchers lining up at 11 a.m. at the reflecting pool in front of the Lincoln Memorial. And, "In New York, a pre-march rally will take place at Central Park West and 61st/62nd Streets at 11:30 a.m., with the march following at 12:30 p.m. from Central Park West and 72nd Street," according to the Huffington Post.
But beyond the big weekend, there are other events planned by the Women's March organizers, themselves, as well as by their sister chapters around the world. Just like last year, the conversation won't stop in January. In 2017, the Women's March hosted all kinds of events. According to past Facebook events, they organized the #DayWithoutAWoman gatherings in Washington D.C. and New York City, as well as the "KilltheBill Rally at the Capitol" in March. In the spring they planned a number of #WomenForSyria vigils and, over the summer, they protested against Trumpcare and defended DACA. By the fall they were talking about campus sexual assault and over the last few months they've been holding vigils for victims of gun violence. They took all kinds of actions in 2017.
And this year in San Luis Obispo, California, for example, there's a workshop planned for Jan. 25 that will address the critical role gender equality will play in 2018 progressive success. On March 8, there will continue to be protests for International Woman's Day around the world, and the U.N. Women for Peace Association will host its 2018 luncheon.
Be sure to follow your city's Facebook page to keep up with 2018 events in your area.
Editor's note: After publication, we discovered this article did not meet our editorial standards. There were portions that did not correctly attribute another source. It has been updated to meet our standards.
Check out Romper's new video series, Romper's Doula Diaries:
Watch full episodes of Romper's Doula Diaries on Facebook Watch.