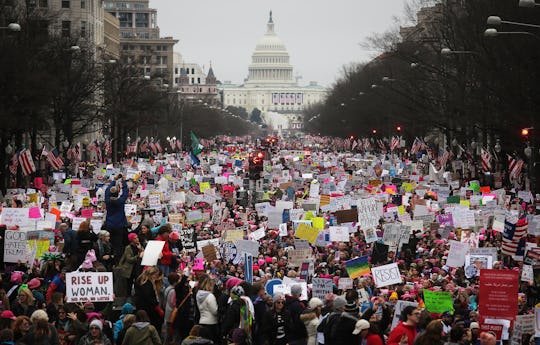 Mario Tama/Getty Images News/Getty Images
Here's Where The Women's March D.C. Starting Point Will Be For 2018
Last year's Women's March on Washington, D.C. drew an estimated half-million people to the National Mall, and there was plenty of confusion about where to stand and where to march. This year's attendance is expected to be a lot lower, and the Women's March on D.C. starting point has also changed, so if you're planning on a repeat trip, don't expect it to be exactly the same. The original Women's March meeting point was at Independence Avenue and 3rd Street, outside of the National Museum of the American Indian, towards the eastern end of the National Mall, but this year, protesters will be rallying at the Reflecting Pool in front of the Lincoln Memorial, at the opposite end of the Mall.
This year, the organizers don't expect the crowd to take up the entire mall (and surrounding blocks) like it did last year. About 10,000 attendees are expected to march from the Mall to the White House, according to the Washington Post, and although the official marching route has yet to be released, the expectation is that they'll assemble along Constitution Avenue, before going north on either 17th Street or 15th Street to get to Lafayette Square, in front of the White House. D.C. police have said that 17th Street NW will be temporarily closed from Constitution Avenue to H Street on Jan. 20., so it's a pretty good bet that's the route they'll take.
By contrast, last year's march almost didn't happen, technically. The crowd was so big that it nearly filled in the original parade route. After originally calling off the whole "marching" part of the march, organizers eventually decided to instruct the marchers to make their way to the White House after all, filling in side streets as needed. "There was no real concern from a public safety standpoint," D.C. Mayor Muriel E. Bowser's spokesman, Kevin Harris, told the Post. "This was always the organizers' decision to make, and so they changed their mind, and that's fine."
This year's D.C. march is being sponsored by March Forward Virginia, formerly known as the Women's March on Washington-Virginia Chapter. It was the state-level organizer for the 2017 march, and is once again partnering with the national group (now known as March On) to host the event. The event will begin with a rally at the Lincoln Memorial featuring a variety of speakers including disability rights advocate Judy Heumann, Fairfax County NAACP president Kofi Annan, Virginia Sen. Tim Kaine, Woman's National Democratic Club president Nuchhi Currier, EMILYs List outreach vice president Mŭthoni Wambu Kraal, National Organization for Women president Toni Van Pelt, League of Women Voters president Chris Carson, and many more. Once the speakers have wrapped up, around 1:00 p.m. Eastern Time, the march will begin.
If you're not up for making the trip to the capital this year, there are hundreds of sister marches planned in other cities across the country once again. Organizers for the New York City march actually anticipate a larger crowd than D.C. this time around, according to the Wall Street Journal. Last year's event brought an estimated 400,000 people, and this year, another 100,000 are expected.
The New York City march, also on Jan. 20, will start at the main entrance of Central Park West and 72nd Street at 11:00 a.m. Speakers will be at Central Park West and 61st Street and 62nd Street, starting at 11:30 a.m., and around 12:30, participants are invited to start marching south around Columbus Circle, east on 59th Street, then south on 6th Avenue. There are three exits planned at 45th, 44th, and 43rd Streets, and a designated sign disposal point between 46th and 47th Streets. Let's hope they save them for the museums this time!
Check out Romper's new video series, Romper's Doula Diaries:
Watch full episodes of Romper's Doula Diaries on Facebook Watch.