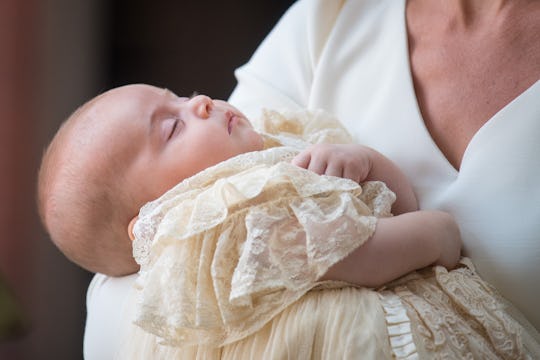 WPA Pool/Getty Images Entertainment/Getty Images
Why Prince William & Kate Middleton May Share A New Photo Of Prince Louis Really, Really Soon
This past spring was super busy for the royal family. But October might be gearing up to be one of their busiest months, yet. In addition to having some very exciting new royal appearances, the world may get another portrait of Prince Louis this month, too, according to Hello!, which has the potential to make this month an exciting one for royal watchers everywhere.
It's hard to believe that the world has only seen Prince Louis a handful of times since his birth on April 23, according to TIME. After making his first appearance on the steps of the Lindo Wing of St. Mary's hospital a few hours after his birth (where everyone got to see his adorable little face) with his parents, Prince William and Kate Middleton, Prince Louis has been spending his days inside his home with his mom while she is still on maternity leave for a little while longer.
Of course, people have seen a few photos of Prince Louis — like the ones taken by Middleton a little less than one month after his birth (where he sat in his older sister, Princess Charlotte's arms), according to Good Housekeeping. Or, the time that people were finally able to see him again in his official christening portraits, taken in July. But since then, there has been nothing.
However, Oct. 23 marks Prince Louis turning 6 months old, according to Hello!, which means there could be a new official portrait of Prince Louis released by the royal family. (I'm crossing my fingers that this is actually happens.)
Although turning 6 months old might seem like an insignificant milestone to some, this wouldn't be the first time that Middleton and Prince William turned it into an occasion worth celebrating.
In November 2015, when Princess Charlotte turned 6 months old, Kensington Palace released two new images of the princess (taken by Middleton), playing with a stuffed dog and looking absolutely adorable. These photos were released at the time as a "thank you" to fans for their well wishes, according to The Telegraph, with Middleton and Prince William hoping that everyone would "enjoy the new photos of Princess Charlotte" as much as they did.
How could people not enjoy them?
The royal family must have known that Princess Charlotte would steal the hearts of everyone when they released these adorable photos.
Just look at her sweet little face.
Because the royal family released these photos three years ago when Princess Charlotte turned 6 months old, they could very well do the exact same thing when Prince Louis reaches this milestone this month. Especially since the royal family released these photos of Princess Charlotte after making her last public appearance in July of that year at her christening, according to The Telegraph — which, as previously stated, is the last time that anyone saw a photo of Prince Louis this year, according to Town & Country.
But even if the royal family doesn't release photos of Prince Louis, October is gearing up to be a major month for them, according to Hello!. Prince William's cousin, Princess Eugenie, will get married to her fiancé, Jack Brooksbank, on Oct. 12, according to Town & Country. This means that people will have new photos of the royal family to fawn over (and another royal wedding to be inspired by).
Not to mention, this month also marks Middleton's long awaited return from maternity leave, according to People, as she will be making sporadic public appearances throughout the month.
There are 31 days left in the month for people to be on alert for a new photo of Prince Louis. But if people don't get to see a new photo of Prince Louis, then they can at least enjoy seeing new photos of his mom when she makes her first official appearances within the next few weeks.