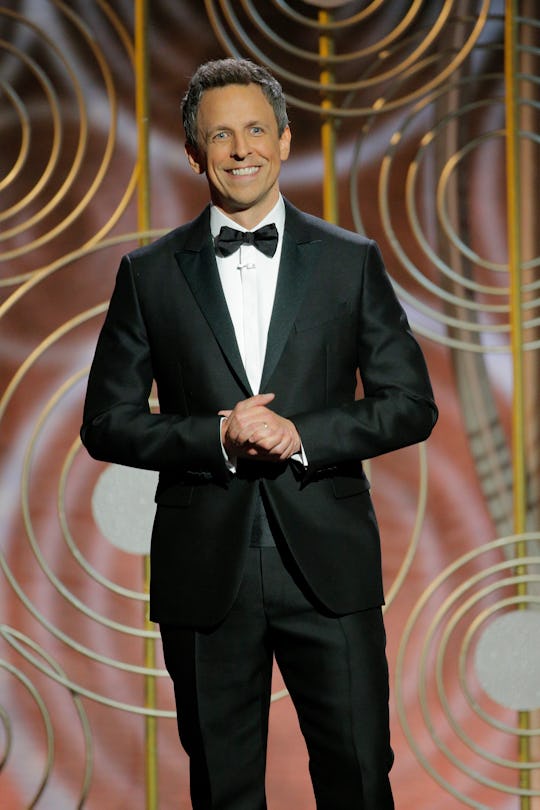 Handout/Getty Images Entertainment/Getty Images
The Worst Jokes From The Golden Globes Show Things Got *Super* Awkward
I think it goes without saying that award shows are typically chock full of super cringe-worthy moments. From the jokes that don't land (like bits about accents) to skits that don't make any sense at all (Jonah Hill dressed as The Revenant bear, anyone?) I'm usually squirming in my seat from secondhand embarrassment during any Hollywood event where shiny objects are handed out. But if you're the type of person who appreciates awkwardness and uncomfortable on-air moments, you'll definitely want to relive the worst jokes from the Golden Globes.
When Seth Meyers was announced as the show's host for 2018, I think the reaction was generally positive. I mean, would it have been awesome for a woman to finally host the Golden Globes? Of course. But, I think when you consider the options of late-night hosts to run the ceremony, Meyers seems like the best bet. Plus, Meyers kind of nailed it in 2017 with his scathing (and hilarious) commentary on President Donald Trump.
Of course, no host can nail every joke. And celebrity presenters are by no means perfect, especially when it comes to pre-planned banter. There's only so much you can do with a teleprompter, right?
That all being said, what cringe-worthy moments riled up the internet this year? Check out the worst jokes below.
P.S. If you're expecting any Trump jokes this year, you might be disappointed.
Meyers' Quip About Asian Actors
A few minutes into Meyers' opening monologue, he made a joke about Asian actors with help from Downsizing's Hong Chau. Meyers set up the joke by saying, "It's sad that only 5 percent of speaking roles are done by Asian actors," to which Chau replied, "Well, the math could be off because a white man did it."
Of course, many people felt the joke was incredibly racist and tired. The stereotype that Asian people are good at math just needs to be done, right? Not only is it not funny, but it's also a cheap way to "represent" the Asian-American community, which comedian and writer Jenny Yang aptly pointed out:
Other people were also disappointed:
So, yeah. I think it goes without saying that award shows need to retire "jokes" centered around hurtful stereotypes ASAP.
The Joke About Woody Allen
Maybe it's just me, but the Meyers' joke about Woody Allen didn't quite land. Meyers joked to the audience, according to The Hollywood Reporter:
The Shape of Water received the most nominations of any film this year. Just an incredibly beautiful film. But I have to admit, when I first heard about a film where a naive young woman falls in love with a disgusting sea monster, I thought, 'Oh, man, not another Woody Allen movie.'
Although it's great on some level that Meyers called Allen out (given the sexual assault allegations his daughter made against him), his jab sort of falls flat when you consider Hollywood is still actively supporting and participating in Allen's films. In fact, Justin Timberlake and Kate Winslet recently starred in his latest movie, Wonder Wheel. (Allen denies his daughter's allegations. His rep did not immediately respond to Romper's request for comment.)
Al Roker's Tonya Harding Joke
A lot people expressed outrage that Al Roker (does anyone know why he was at the ceremony?) made a joke about Tonya Harding attacking someone with a "pipe." Roker screamed, according to The Sacremento Bee: "Tonya Harding's got a pipe, get her!"
Obviously, Roker was making reference to when Olympic figure skater Nancy Kerrigan was brutally attacked with a police baton in 1994, an incident that temporarily ended her career.
Kerrigan and Harding were longtime rivals before the shocking assault occurred, and after years of speculation, Harding finally admitted that she knew "something was up" before Kerrigan was attacked, according to the Daily Mail.
Of course, it goes without saying that making a quip about physical assault is not funny. And needless to say, people were pretty disgusted that Roker actually went there.
And some brought up that the joke was degrading to women in general:
Yeah, I'd have to say the media's treatment of Harding was and still is very problematic. Clearly, Roker missed the mark here and then some.
Check out Romper's new video series, Romper's Doula Diaries:
Watch full episodes of Romper's Doula Diaries on Facebook Watch.