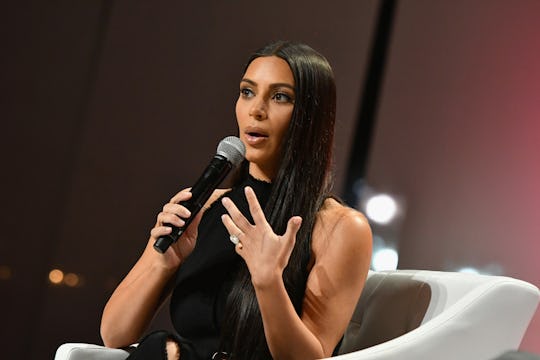 Slaven Vlasic/Getty Images Entertainment/Getty Images
The Wrong Way To Respond To Kim Kardashian West's Surrogate News
On Wednesday, it was announced that Kim Kardashian West and has hired a surrogate for her third child. The news comes relatively soon after the family show, Keeping Up With the Kardashians revealed that Kourtney Kardashian and Kris Jenner both offered to be Kardashian's surrogate for her third child with husband and rapper, Kanye West. So, fans knew that this was a possibility for the reality star and businesswoman. In response to the news, fans should keep in mind, before tweeting, that there really is a wrong way to respond to Kardashian's surrogate news.
It is not new to see people (sometimes fans) criticize a celebrity's choices. Kardashian is certainly no stranger to hate online and has probably seen it all on social media. She has even gone on the record of "how to clap back" against haters who seem to have nothing better to do than troll. However, the wrong way to respond to Kardashian's surrogacy news is beyond trolling. The wrong response to Kardashian's news is the frequent comment that celebrities may choose surrogacy because they want to "spare their bodies" and not go through pregnancy themselves.
First of all, if a woman decides to use a surrogate, for whatever reason, that is her choice. She should not be criticized for making that decision in the name of vanity. Being the owner of her body, she has the right (the only person to have that right) to make the call for what her body goes through. With that said, Kardashian's decision to use a surrogate comes after a lot of complications in her past pregnancies. So, before thinking it's because she cares too much about how she looks, consider the facts.
Kardashian has been very open about the difficulties she faced during her pregnancy. She has revealed that she suffers from placenta accreta, which is considered a "high-risk pregnancy complication," according to the Mayo Clinic. The Mayo Clinic says online that it is a serious condition that "occurs when blood vessels and other parts of the placenta grow too deeply into the uterine wall." The condition, which Kardashian has dealt with on the show before, can cause severe blood loss after giving birth. The Mayo Clinic also states that if the condition is suspected during pregnancy, "you'll likely need an early C-section delivery followed by the surgical removal of your uterus (hysterectomy)."
On Keeping Up With the Kardashians, Kardashian opened up to friend Jonathan Cheban and said, "I can't carry anymore kids... it's the worst," according to People. "It's not going to be happy for me... I had a full break down... I give up."
So, before considering that Kardashian has chosen to go the surrogate route because of vanity reasons, consider that she is probably going through a lot knowing she can't carry another child — an experience she has said herself has been "the worst experience of [her] life," because of the complications. Have some sympathy and compassion, and realize there is much more depth to Kardashian.