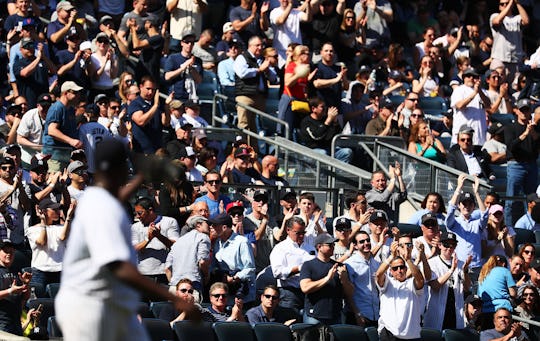 Al Bello/Getty Images Sport/Getty Images
Fans & Players Are Pissed After A Young Fan Was Hit By A 105-Mph Ball At Yankees Stadium
My dad used to take me and my sisters to a New York Yankees game at least once a year when I was growing up. We usually sat in the middle section, although I always dreamed of sitting in the lower level, close to the action. Of course, being a little kid, I didn't think about being seriously hurt by a ball flying into the stands. But that's exactly what happen to the young fan hit by a ball at a Yankees game on Wednesday. She might need surgery, which goes to show why protective netting in stadiums is crucial.
According to ESPN, the toddler sitting in the lower section was struck in the face by a 105 mph line drive thrown by Yankees third baseman Todd Frazier during Wednesday's game against the Minnesota Twins. Her face was bloodied and she had to be transported to an area hospital. Her father said the little girl is "doing all right," but "it's too early to tell" if she'll need surgery, ESPN reported.
The incident has shocked fans and players alike, according to the Washington Post. But it's also led many to push for protective netting along the baselines to keep fans safe — a contentious debate that has raged for many years.
In May, a San Diego Padres fan was injured by a bat that flew into the stands, sparking a debate about ballpark safety, according to the San Diego Union-Tribune. And according to the Boston Globe, fans are regularly hurt by a stray ball or bat at games at Fenway Park.
The injuries have been mild to severe, but all avoidable if protective netting extended beyond home plate. Yet, according to the Globe, people have argued that extra netting would obstruct their view, or keep them from catching a foul ball.
After Wednesday's incident, it seems players on both teams would disagree with that sentiment. According to NJ.com, Frazier said that "the nets should be up," adding,
Every stadium should have it, but we're not at that point yet. Very unfortunate. I saw the whole thing. The dad — or whoever was with them — was trying his best to protect her. But the ball is going 120 MPH. It's tough.
Minnesota Twins second baseman Brian Dozier spoke more candidly about the incident, according to ESPN. He told the outlet,
Either, one, you don't bring kids down there, or No. 2, every stadium needs to have nets. That's it. I don't care about the damn view of a fan or what. It's all about safety. I still have a knot in my stomach. ... I hope the kid's OK. We need nets, or don't put kids down there.
A handful of teams have already put up additional netting in their stadiums, include the New York Mets, ESPN reported. The Mets extended netting in Citi Field — the team's stadium in Queens — to the outfield ends of the dugouts this season. According to SB Nation, the Twins have already added netting to the outer edge of the dugout as of last year, going beyond current industry guidelines.
According to ESPN, the Yankees are "seriously exploring" additional netting for the 2018 season. A spokesperson for the team wouldn't comment or give an update on plans to extend netting.
But the Yankees may have no choice in the matter if legislation introduced by City Council member Rafael L. Espinal Jr. were to pass. Espinal's bill would require New York City ballparks to extend netting because, as he wrote in an op-ed for the New York Daily News, "baseball will be made better by becoming safer."
Espinal's right. Fans have lost their eyesight, suffered brain injuries, and had skull fractures because of balls and bat that fly into the stands. People may grumble about obstructed view, but I'd rather have to see through thin lines than have a fan dead.
Watch Romper's new video series, Romper's DoulaDiaries:
Check out the entire Romper's Doula Diaries series and other videos on Facebook and the Bustle app across Apple TV, Roku, and Amazon Fire TV.