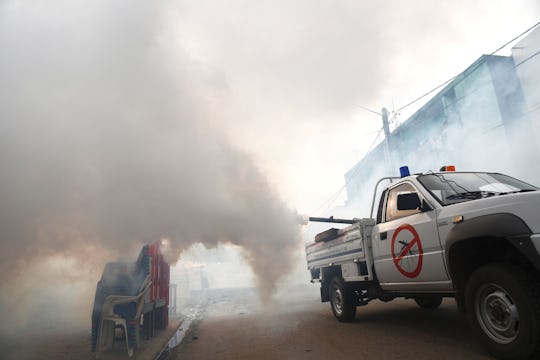 SIA KAMBOU/AFP/Getty Images
The Zika Outbreak In St. Petersburg Is Florida's Third In The Last Three Weeks
News surrounding Zika cases and their spread continue to raise questions and concerns. The virus, which spread throughout the Americas last year, was reported to have been locally transmitted in Miami, Florida, last month. Now, news of the Zika outbreak in St. Petersburg, Florida on Tuesday, raises even more concerns about the potential of the virus' spread.
According to NBC News, Florida officials confirmed that at least one person has a locally-transmitted Zika infection in Pinellas County in the Tampa Bay-area of Florida.The county includes cities Clearwater and St. Petersburg. Florida Gov. Rick Scott, made the announcement about the Zika transmission on Tuesday, according to the Tampa Bay Times:
This person did not travel to an infected area with Zika, we are looking at a number of locations. Hopefully something good will happen and it will just be a single case. But if we do find out, what we will do is we will be very aggressive.
Apparently health experts and Florida officials aren't convinced that the Pinellas County Zika case will lead to an ongoing outbreak. In a briefing, Thomas R. Frieden, director of the Center for Disease Control & Prevention, said local transmissions often hit a "dead end," the New York Times reported.
"The vast majority of the local transmissions hit a dead end after one or two people in one household," Frieden said.
In a statement released to the Associated Press, Scott reiterated this sentiment, by relaying that the Department of Health officials don't believe the Pinellas County Zika case reflects an "ongoing active" transmission.
"While this investigation is ongoing, DOH still believes that ongoing active transmissions are only occurring in the two previously identified areas in Wynwood and Miami Beach," Scott said.
The Pinellas County Zika case follows previous reports of locally-transmitted Zika cases in Florida last month. In July, the Florida Department of Health identified the Wynwood neighborhood of Miami and Miami Beach as areas with mosquito-borne spread of Zika. Earlier this month, the CDC issued a travel advisory for pregnant women and their partners traveling to the north Miami area.
"Because of this finding, we are advising pregnant women not to travel to that area and if they have traveled there on or after June 15 to visit their health care provider for testing," Frieden said in an interview with CNN discussing the CDC's travel advisory.
According to the CDC, as of Aug. 17, there have been 14 locally acquired (non-travel related) mosquito-borne cases of Zika transmissions reported in the United States. It continues to be important to remain informed on Zika prevention tips and guidelines.