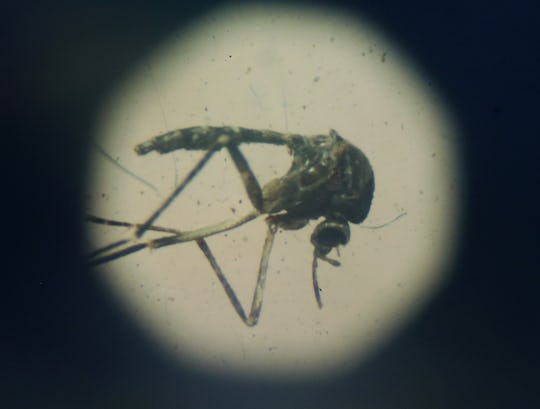 Mario Tama/Getty Images News/Getty Images
If You're Terrified Of Zika, This New App Can Help
If you're a pregnant woman, chances are that getting summertime mosquito bites makes you worry about a lot more than how you're going to deal with the annoying itch. While the Zika virus is not in the news as much this year, it is still a serious issue for pregnant women. That's why the new Zika tracking app "Kidenga" is so necessary for pregnant travelers — and for everyone in areas that might be impacted by the mosquito-borne virus.
Kidenga tackles one of the biggest problems around Zika — the virus can be difficult to detect, and most people who get it don't bother going in for treatment. Zika's worst symptom is that it can cause birth defects, but in non-pregnant people, it tends to come with mild symptoms that clear up on their own. That makes it hard to track where outbreaks might be occurring.
So researchers at the University of Arizona Zuckerman College of Public Health came up with an ingenious community-based mobile app. Anyone can log on to Kidenga and anonymously report symptoms that they or their family members have been experiencing. That way, researchers can track what neighborhoods are showing unusual clusters of symptoms, and help identify where mosquitos carrying Zika (as well as other mosquito-based diseases like dengue and chikungunya) are biting people.
Then, Kidenga's Disease Tracker feature allows users to see where people have been reporting symptoms, as well as check out the mosquito reports in their own neighborhoods. Kidenga also has a section "Get Mosquito Smart," which provides users with handy information from scientists about how to reduce the risk of infection (removing standing water, installing window screens, and wearing long-sleeved clothing are all good starting points). It's even got a whole section specifically devoted to information on Zika and pregnancy.
Kidenga is definitely a useful tool for pregnant travelers planning on going to areas that might be affected by the virus. But it only works to its fullest potential if people in the community report their symptoms. So if you live in a place that's at risk, definitely check out Kidenga and add your own information. It's even helpful if you just log on to report that you've experienced no symptoms.
As lead investigator Dr. Kacey Ernst, associate professor of epidemiology at the University of Arizona Zuckerman College of Public Health, told AZ Big Media:
Now more than ever communities need to work together to identify and solve public health problems. As funding is stagnant or declining, novel ways to improve health with limited resources are required.
The app recently added a Spanish-language version, too, and is gaining more and more users. So check it out, especially if you'll be traveling soon. With a disease as serious as Zika, it's important to do whatever you can to protect yourself.