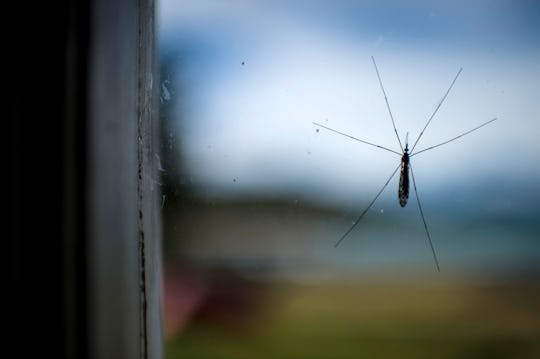 MARTIN BERNETTI/AFP/Getty Images
The Zika Travel Warning Just Made History As First Of Its Kind, Proving The Threat Is Real
Earlier Tuesday, the Centers for Disease Control and Prevention issued the first Zika travel warning in the United States. While the area affected is relatively small — currently, the warning only affects a single neighborhood, Wynwood, in Miami, Florida — CDC Director Dr. Tom Frieden stated that "pregnant women [should] not to travel" to the 150-square-meter area, and news of the advisory should not be taken lightly, according to CNN:
New test measurements over the weekend showed a risk of continued active transmission in that area. Because of this finding, we are advising pregnant women not to travel to that area and if they have traveled there on or after June 15 to visit their healthcare provider for testing.
Aside from suggesting pregnant women avoid the area, the CDC has also posted the following Zika prevention advice to pregnant women, their partners, and/or any couple trying to conceive in the Miami area:
First, women and men who live in or traveled to this area and who have a pregnant sex partner should use condoms or other barriers to prevent infection every time they have sex or not have sex during the pregnancy. Second, pregnant women who live in or frequently travel to this area should be tested in the first and second trimester of pregnancy. Third, women with Zika should wait at least 8 weeks and men with Zika should wait at least 6 months after symptoms began to try to get pregnant. And, lastly, women and men who traveled to this area should wait at least 8 weeks before trying to get pregnant.
The CDC is also recommending that anyone living in or around Miami (or planning to visit) follow appropriate mosquito prevention steps, which includes wearing long-sleeved shirts and pants, using screens in any open windows, and applying EPA-approved insect repellents.
The warning came about after health officials confirmed 14 Floridians had contracted the virus after being bitten by local mosquitoes. According to Frieden, CDC personnel are already stationed in Florida and are working hard to understand why local mosquito control efforts failed, and Gov. Rick Scott further elaborated on the state's efforts, according to CNN:
Following today's announcement, I have requested that the Centers for Disease Control activate their emergency response team to assist (the Florida Department of Health) in their investigation, research and sample collection efforts. Their team will consist of public health experts whose role is to augment our response efforts to confirmed local transmissions of the Zika virus.
And this is important, because while nearly every state has seen at least one Zika case, this these are first cases where Zika was transmitted locally — and probably far from the last.