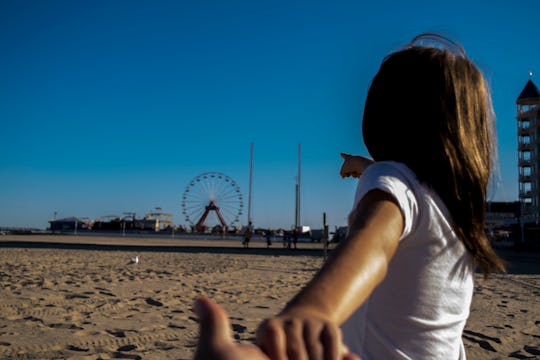 Foap AB, Getty Images
6 Things To Know Before Going To A Theme Park, Per Infectious Disease Experts
Your family has likely been cooped up in the house for months, and you may be looking for ways to break the routine and go have some much-needed fun outside. If your kind of fun involves rollercoasters and cotton candy, however, then there are definitely a few things you should know before you go to a theme park.
"There are safe ways to go to a theme park, but it's complex," Gabriela Andujar Vazquez M.D., an infectious disease physician and associate hospital epidemiologist at Tufts Medical Center, tells Romper. The overall safety of going to an amusement park depends on whether or not the park is fully outdoors, what masking and distancing rules are in place, and where the park is located. One of the first things parents can do before deciding to go to a theme park is ask themselves if the benefits outweigh the risks, Vazquez suggests.
"Do we really have to go to an amusement park?" Vazquez suggests asking yourself. "Maybe; we have been going through a pandemic and people need to have fun. But we need to balance the safety of everyone and make sure we're not making things worse."
If you do decide that spending a day at a theme park is something you want to do, it's helpful to remember that, "going to a theme park during the COVID-19 pandemic is likely, at least, a moderate risk activity," Margaret E. McCort, M.D., an infectious disease specialist with Montefiore Health System, tells Romper. She adds that because of the close conditions, respiratory viruses like colds and chickenpox have circulated in theme parks long before COVID. "If you or someone you live with is at high risk for complications from COVID-19 consider putting off the activity, especially if [the virus] is circulating heavily in your area," McCort says. Read on for six things you should consider before heading to a theme park.