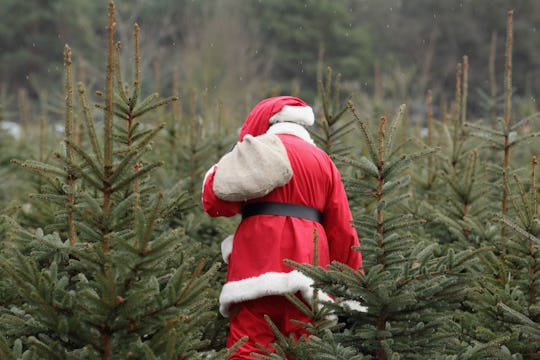 Andreas Rentz/Getty Images Entertainment/Getty Images
There's A Nationwide Christmas Tree Shortage This Year, So Start Decorating NOW
Now that Thanksgiving is officially over, people no longer have to hide the fact that they're listening to Christmas music and can now let their excitement for the holidays show without shame. But if you're one of those people who chose to wait a little longer to get ready for the holidays, you might be out of luck. Procrastinators, be warned — there is a nationwide Christmas tree shortage this year that might make you want to speed up your decorating within the upcoming days.
This Christmas tree shortage is a very real problem, according to People, affecting both the demand of Christmas trees at your local tree lot and the price of the tree. Figures from the National Christmas Tree Association, according to USA Today, show that prices might be raised by 5 to 10 percent from last year.
If you thought the Hatchimals shortage was stressful last year — and are in a craze to get your kid a Fingerling in time for Dec. 25 — then you're probably familiar with the stress associated with the holiday time. But this Christmas tree shortage might be a little more stressful than that, especially since there are so many traditions associated with them. But most parents should be seasoned pros when it comes to holiday stress by now and this shortage is nothing but a small hiccup.
This shortage can be attributed to an event that happened 10 years ago — The Great Recession (bet you forgot about that one, huh?). Christmas tree farmers didn't plant as many trees in 2007 and 2008, according to the Charlotte Observer, due to demand being low at the time (people were trying to save money, after all). Now that those trees are fully grown (it takes about 10 years to get to a full height of 7 or 8 feet, according to People), there are fewer trees to go around. This means prices being raised and a mad dash for the perfect fir at your local tree lot.
But don't panic, just yet. If you're one of the many waiting for the perfect moment to buy your tree, then you might want to do it on or before Dec. 1, according to Newsweek. Doug Hundley, a representative for the National Christmas Tree Association told Newsweek:
There is a touch of undersupply. If you're a last-minute shopper, your particular retailer may sell out a week early this year, depending on where you're shopping.
Hundley told Newsweek that shoppers should buy their tree by Dec. 1 to get the best pick of the lot (to avoid brown branches and stiff trees) and "avoid last minute price-hikes." Sounds like sound advice.
Christmas trees are expensive and with this small price hike, that's an added cost onto the already expensive holiday season. A study conducted in 2016, according to Yahoo Finance, found that trees prices vary dramatically across the nation. In California, Christmas trees cost an average of $76 and they're cheapest in North Dakota, costing as little as $27. On average, according to Yahoo Finance, a shopper will pay $66 on Black Friday, when demand is high. But these prices don't take into consideration the new shortage.
If you're terrified about this shortage and the pickings at your local tree lot look slim there is a very solid solution to this problem — buying a fake tree. There is a one-time cost to buy the tree and reuse it year after year. It might not have the same smell or maintenance as a real tree, but serves the same purpose and looks the same, especially with all of the ornaments hanging on it. Especially since this shortage could last until 2025.
Still, according to USA Today, numbers show that while artificial trees are becoming more popular (18.6 million people purchased one in 2016), the majority of households are still purchasing real trees.
When there are so many great memories to be shared around the Christmas tree, it doesn't matter if it's real or fake. Keep this in mind the next time you're at your local tree lot and see that it has been effected by the shortage this year.
Check out Romper's new video series, Romper's Doula Diaries:
Watch full episodes of Romper's Doula Diaries on Facebook Watch.