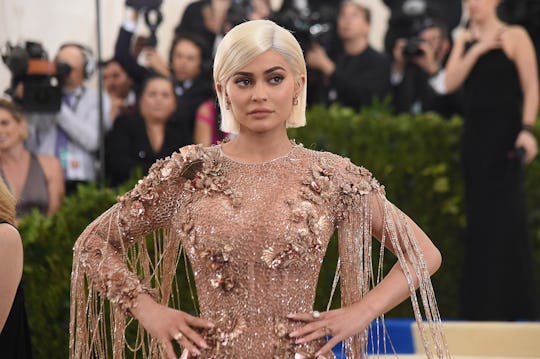 Nicholas Hunt/Getty Images Entertainment/Getty Images
There's A "Baby Bump" Video Of Kylie Jenner Circulating, & It's Seriously Creepy
If your Christmas was completely ruined because you didn't get the most important item on your wish list — confirmation of Kylie Jenner's rumored pregnancy — you may have been excited by the "baby bump" video of Kylie Jenner circulating on the internet right now, but take a step back, because the five-second snippet that supposedly shows the lip gloss magnate caressing her fertile womb is actually nearly a year old, according to TMZ. The video shows Kylie dancing in a silver gown alongside her sister, Kendall, dressed in orange, but the gossip site identified those outfits as the ones the pair wore to a Golden Globes party in January 2017, three months before Kylie started dating her supposed baby daddy, Travis Scott. In other words, this is not the confirmation you were hoping for.
And honestly, can we talk about how creepy this is for a moment? Whether the video was outright altered, or it just so happens to imply a "bump" through a trick of the light or angle, the fact that someone would manufacture fake evidence of a stranger's maybe-pregnancy is actually super gross. Normally, I don't judge other people's hobbies, but there are millions of better ways to spend your time than perpetuating conspiracy theories about the contents of a reality star's uterus.
The appeal of creating a video like this (or digging one up and spinning it for your own purposes, if it's not altered) isn't hard to imagine. Successfully fooling strangers on the internet would, I suppose, provide a little thrill of intellectual superiority, and I'd be lying if I said that feeling like you're better than somebody else sucked. There's a reason we have gold medals and blue ribbons, after all. Still, lying and tricking people is a crappy way to boost your self-esteem, and it's a pretty rude thing to do to Kylie, even if you're not a fan of hers. But as long as people care about whether she's pregnant, there's a market for this kind of thing.
So why do people care? Why do they click? Most probably fall into one of two camps. First, I'll address those who genuinely like her, and can't wait to help celebrate her "happy news," if there is any. You watch her show, you wear her makeup, and even though she has no idea who you are, you feel like you know her. A baby is a blessing, and you've been poised over your keyboard for months, just itching to be the first one to type "CONGRATS!!!" followed by 18 random emojis underneath her official Instagram pregnancy announcement. But she hasn't announced it, which means either she isn't pregnant, or she doesn't want to share the news yet. This is an invasion of privacy, and if you truly want what's best for her, just let her be, OK?
Then there are those who aren't into the Kardashian-Jenner clan. The haters, if you will. You're so sick of them being famous for no reason, and you can't wait to find out if Kylie's really pregnant so that you can judge her for getting knocked up at a young age, with a guy she hasn't been seeing for very long. Or maybe you think she's not pregnant, and you're waiting for proof of that to come out; she's just been stringing fans along this whole time, and you alone figured out her scheme before the rest of those dummies. But guess what? The internet is driven by clicks, so every time you read an article about her, you're encouraging the publication to write more. Whether it's for the fans' benefit, or a KUWTK ratings ploy, you're playing right into their hands. Also, you're rude; she's just a 20-year-old who grew up on TV. Chill out.
There will always be another bit of "evidence" circulating that claims to prove Kylie's pregnant, and another that disproves it just as quickly. After the highly anticipated Christmas announcement failed to materialize, a grainy photo of Kylie in a baggy coat started circulating on Twitter, but a quick Google image search shows that it was actually taken at her friend Jordyn Woods' birthday party more than two months ago. The only real proof that Kylie is pregnant will be when she personally says she is, or if you actually witness a baby emerging from her body. Until then, please stop digging for clues; it's not doing anybody any good.
Check out Romper's new video series, Romper's Doula Diaries:
Watch full episodes of Romper's Doula Diaries on Facebook Watch.