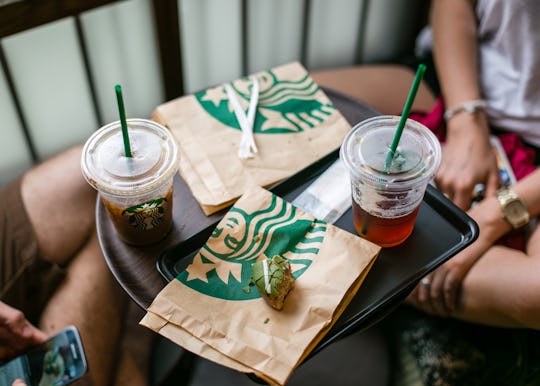 Christopher Jue/Getty Images News/Getty Images
There's A Fake Starbucks Ad Circulating, & Here's What You Need To Know
It's not uncommon to see misinformation circulated on the internet. From inaccurate news stories to unfounded rumors, social media is a breeding ground for false information. Although some of these social media pranks can be harmless, there are plenty of dangerous hoaxes, including this fake Starbucks ad targeting undocumented immigrants. Now that some initial confusion about the ad has been cleared up, here's everything you need to know about this disturbing prank. Romper has reached out to Starbucks and is awaiting a response.
According to BuzzFeed News, the fake ad was conceived on 4Chan, a largely unregulated and anonymous online forum. Sadly, some anonymous user had the idea to create a fake Starbucks ad offering 40 percent discounted drinks to undocumented immigrants on Aug. 11, and they decided to name hoax event "Dreamer Day." The initial Aug. 2 post read, according to 4 Plebs:
How about we meme "Undocumented Immigrant Day" at Starbucks into existence? Announce free coffee for all illegals on a certain date. August 11? 11 looks like II (for Illegal Immigrant). I'm open to suggestions there. Name a liberal place for all illegals to go at once and demand free stuff. Thoughts?
Why?
If you're asking why someone would create a fake ad targeting undocumented immigrants, you're not alone. Following the anonymous user's initial post, other anonymous users chimed in with upsetting suggestions for "Dreamer Day." One 4chan user suggested calling Immigration Crime Engagement (ICE) to Starbucks locations on Aug. 11 with the hope that undocumented immigrants would be deported as a result. The anonymous user wrote, according to 4 Plebs:
Bump. I vote we call ICE on 'em. Send 'em packin' when they just wanted free coffee.
Another user commented, according to 4 Plebs:
Just make up a bunch of fake posters then call ICE when a bunch of illegals show up to Starbucks. The bad publicity alone will ravage them.
Once ICE was brought up, a countless number of users applauded the idea and added their own racist sentiments to the conversation. Many of the comments were incredibly disturbing, and users compared undocumented immigrants to prey.
4chan Users Worked Hard To Make The Ad Appear Real
One particularly scary angle to this fake ad is how authentic it appeared. Not only did the ad appear similar to other Starbucks ads, but it also used a relevant hashtag (#borderfreecoffee) to gain momentum on social media. One user suggested adding hashtags like "#raise," "#resist," and "#act" to the ad, according to 4 Plebs. The ad also told users to use the coupon code "UNAFRAID" at check out, which was another unsettling tactic to appeal to undocumented immigrants and their supporters.
Many Innocent People Were Tricked By The Ad
Given the authentic feel of the fake ad, many Starbucks fans believed 4chan's plot. Some people on social media even hailed Starbucks for its so-called "progressive" event.
Starbucks Addressed The Hoax On Twitter
On Aug. 4, Starbucks took to Twitter to address the "Dreamer Day" scam. In response to an excited customer, Starbucks wrote, according to Twitter:
We're sorry but you have been misinformed. Starbucks is not sponsoring such an event. Please do not spread misinformation.
Starbucks issued similar messages throughout the day.
On Sunday, John Kelly, the Starbucks senior vice president of global communications, called the rumor "completely false" and "one hundred percent fake," according The Washington Post.
In 2017, misinformation is all too common. The "Dreamer Day" hoax is just another example of how social media can be used as a tool to hurt and deceive innocent people like undocumented immigrants. Although it's totally reasonable to feel helpless amid all the online chaos, it's important to take a proactive approach to misinformation. If you spot false information online, do your best to debunk it.