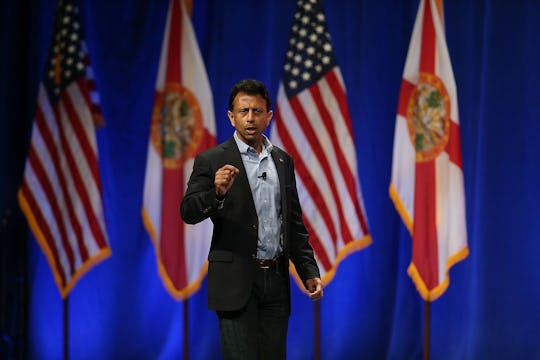 There's A Growing List Of Governors Who Won't Allow Syrian Refugees Into Their State, & The Internet Is Responding Accordingly
Following the attacks in Paris on Friday, American politicians are beginning to take stances on how to best respond. Although the attackers were French nationals and one Belgian citizen, governors nationwide are talking about one thing: Syrian refugees. As of this afternoon, there is a growing list of states that won't allow Syrian refugees into their state and of course, the Internet is responding accordingly. But here's the rub: it's not really up to the states. According to the Refugee Act of 1980, states don't really get to say if they'll let people in or not. It's sort of up to the Attorney General, which is why most of the governors speaking out today have disclaimed it as a "temporary measure." So far, it's mainly Republican govs, as the list grows:
Republican Robert Bentley of Alabama
Republican Asa Hutchinson of Arkansas
Republican Rick Scott of Florida
Republican Nathan Deal of Georgia
Republican Mike Pence of Indiana
Republican Bruce Rauner of Illinois
Republican Bobby Jindal of Louisiana
Republican Paul LePage of Maine
Republican Charlie Baker of Massachusetts
Republican Rick Snyder of Michigan
Republican Phil Bryant of Mississippi
Democrat Maggie Hassan of New Hampshire
Republican Chris Christie of New Jersey
Republican Pat McCrory of North Carolina
Republican John Kasich of Ohio
Republican Greg Abbott of Texas
Republican Scott Walker of Wisconsin
Though some, like Republican Nikki Haley of South Carolina, and three democratic govs like Connecticut's Dannel Mallow, Pennsylvania's Tom Wolf, Vermont Peter Shumlin.
But it's not really about them, right? Twitter has a lot to say to about the decisions. Mostly about teasing certain states for not having a whole lot to offer:
More than anything else, the outrage on social media is concentrated on the fact that states just don't have this power. It's a great way to play to a base that tends towards exclusion. But it's just not factual. Even Donald Trump saying that he would bomb ISIS just wouldn't work. ISIS doesn't live in one town or even one country much no one state would be burdened with accommodating refugee camps.
It's also not like just anyone can claim refugee status in the U.S. The whole process in the U.S. takes anywhere from 18-24 months.
For sure, the Paris attacks have made an extremely complicated security issue even more complicated. The terrorists in Paris on Friday were highly coordinated and working with sort of lo-fi technology like video game consoles. One of the attackers might have disguised himself as a refugee to make his way into Europe. Political leaders need to find a way to identify and track refugees and come up with a good solution to vetting them. Governors banding together and misreading federal laws is not the way.
Image: Joe Raedle/ Getty