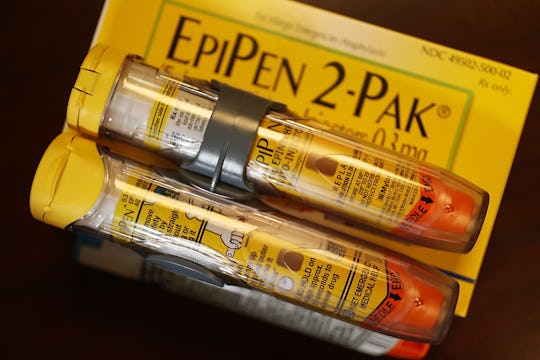 Joe Raedle/Getty Images News/Getty Images
Here's What You Need To Know About The EpiPen Shortage
Relying on EpiPens can be exhausting for families. It's difficult to be able to afford them and now, the Food and Drug Administration reported that there might be an EpiPen shortage coming soon, which means you're going to want to start planning ahead.
The FDA added the EpiPen 0.3 mg and EpiPen Jr 0.15 mg Auto-Injectors, and the generic versions of the product to its drug shortages list on Wednesday, though it noted that the products are currently available still. The FDA cited "manufacturing delays" as the reason behind the shortage. Mylan, which distributes the EpiPen and the generic, did not immediately respond to Romper's request for comment, but did issue an official statement on their website Wednesday.
The company confirmed the FDA's posting that there "are intermittent supply constraints," that product is available, and that Mylan is "currently receiving continual supply from its manufacturing partner Meridian Medical Technologies, a Pfizer company. Mylan is expediting shipment to wholesalers upon receipt, and supply levels may vary across wholesalers and pharmacies." Put simply? Do not panic. The shortages will be short lived, but do check your stash and stock up if you can.
The company added, "Mylan and Pfizer take the supply of EpiPen and EpiPen Jr Auto-Injectors very seriously." It added that it notified the FDA a "few months ago" that there might be "intermittent supply constraints" and that both the pharmaceutical companies and the FDA were in constant contact, updating each other.
Pfizer issued a similar statement about being in contact with Mylan and the FDA and taking the situation seriously. Pfizer added:
If you have supplies of unexpired EpiPen in quantities deemed medically appropriate by your doctor, we urge prudence in refilling additional prescriptions for any dosage of EpiPen during this temporary period of manufacturing constraints, in order to help ensure that other patients have access to this medication.
Mylan encouraged patients with life-threatening allergies to who are having trouble accessing the product to contact them directly at 1-800-796-9526 for help finding alternative pharmacies. FDA spokesperson Lauren Smith Dyer told CNN, "based on the information provided by the manufacturer, the FDA anticipates the EpiPen shortage to be short-term."
Let's hope so. Word of shortages had spread around social media in the past week, forcing the FDA, Mylan, and Pfizer to issue statements on May 9. The day before, James Baker, chief executive officer of patient-advocacy group Food Allergy Research & Education, told Bloomberg News that many of his patients had reported not being able to get the device at all or have had to wait several weeks to refill.
Bloomberg News reported that so far, over 400 patients in 45 states have reported not being able to access to the drug, which is used to treat anaphylaxis,, or severe allergic reactions to food and insects, among other things. People need them immediately, which is why families usually have some on hand. Although the shortage is supposed to be "intermittent," it might not be the best idea to put off filling your prescription sooner rather than later, just in the name of being being overly prepared for bee sting and BBQ season.
There are some alternatives if the shortages get more serious than the companies expect. Smith-Dyer added in her interview with CNN that the FDA will keep updating the shortage page with more info. "This will include a list of epinephrine auto-injector products that are available from other manufacturers as well as contact information for consumers and health care providers," she said.
One of those providers, Kaléo, told CNN that it is "able to fill and is filling" orders for AUVI-Q, a pocket sized epinephrine auto-injector through its direct delivery service. Kaléo president said that "patients with either commercial insurance or no insurance and a household income lower than $100,000 can access AUVI-Q for $0 out of pocket."
Hopefully, health officials and manufacturers can work together to get the auto-injectors back in stock. Because it's not the kind of thing patients should have to wait for.
Check out Romper's new video series, Bearing The Motherload, where disagreeing parents from different sides of an issue sit down with a mediator and talk about how to support (and not judge) each other's parenting perspectives. New episodes air Mondays on Facebook.