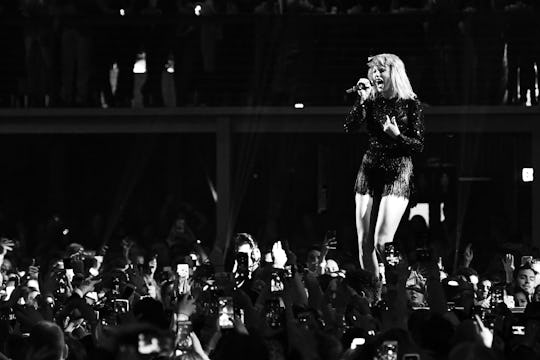 Mike Coppola/Getty Images Entertainment/Getty Images
These Tweets About 'Reputation' Prove That Swift's Fans Were Absolutely Ready For It
Taylor Swift's long-awaited album Reputation was released at midnight on Nov. 10 and fans are wasting no time in sharing their reactions. It's been three years since her last album, and clearly, fans were getting a little antsy without any new Swift tunes to analyze. Swift, of course, did everything she could to drum up the anticipation, and it surely paid off. Reputation has already become the talk of Twitter. As usual, Swift's fans are going crazy for it, and these tweets about Reputation reveal just how amazing they think it is.
Fans of Taylor Swift, often referred to as "Swifties," have a reputation themselves of not holding their composure when it comes to anything having to do with Swift. Fangirling over anything Taylor-related is completely expected, and Swifities are known to make their voices heard. Twitter definitely does not fail us in this regard. The #reputation hashtag is overflowing with fan reactions, and it's clear fans think highly of Swift's latest release.
Perhaps more anticipated than the actual album is the lyrical content of the music. Few things are more satisfying than finally figuring out who a Swift song is about — her lyrics often offer truly personal insight into her already public relationships, and fans can't get enough of the details. Previous songs are said to have referenced Joe Jonas, John Mayer, Katy Perry, Jake Gyllenhaal, and Conner Kennedy, among many others. Fans of Swift have already dug into Reputation a bit, and say that Calvin Harris, Tom Hiddleston, and Swift's feud with Kim/Kanye are all expected references. As we get through the day, and repetitive listening has led to even more theories, we're sure to get even more juice on Swift's past relationships.
Though it's only a matter of time before the lyric analyses become all the talk regarding Reputation, it's fun to see people's initial reactions over the music itself. And, of course, Twitter is the best place to find these.
Zero Regrets
Swifities are known for repetitive listening, and Reputation does not disappoint in that regard. Many fans are calling it her best album ever.
The Best Ever
Some fans are quick to say Reputation might not just be the best Taylor album ever, but the best allbum ever. Period.
OMG
Taylor Swift's last album, 1989, garnered similar fan-praise at its release, citing her versatility as an artist, and, of course, her impeccable song-writing. Reputation, Swift's newest release, follows 1989 by three years, and fans who had been craving new Taylor music are thrilled to finally have it.
Sorry, Old Taylor
There was a lot of talk over a lyric off of Reputation's first single, "Look What You Made Me Do," which noted, "Sorry, the old Taylor can't come to the phone right now/ Why not? 'Cause she's dead." Fans were initially anxious, wondering what sort of change to Taylor's music they could expect, but it seems as though they'll adjust to the new Taylor just fine.
How Could You Not?
For The Naysayers
Reputation is said to have broken iTuens release records overnight.
#Sorrynotsorry
Worth The Wait
So Shook
I Told You So
Taylor Swift's versatility as an artist has shown over the last few years. Her musical progression out of the country genre and into pop was criticized at first, but Reputation is proving her range as a reportedly strong pop album.
Don't Tell The BeyHive
Just Fire
Reputation was long awaited, and fans are said to be thrilled over the latest Swift release. Time will tell what fan theories regarding her clever lyrics will emerge, and then there will be a whole new wave of Reputation wonder to marvel at.
Check out Romper's new video series, Romper's Doula Diaries:
Watch full episodes of Romper's Doula Diaries on Facebook Watch.