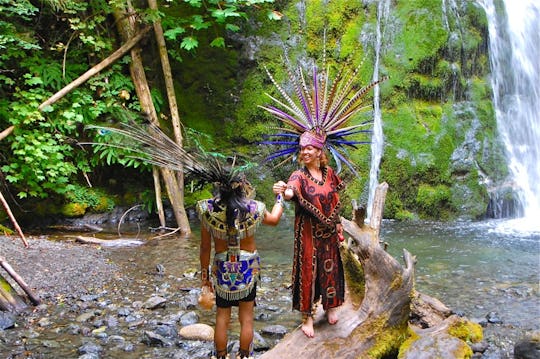 Courtesy of Crissa Boyink
These 4 Nomadic Moms Feel Good Parenting Doesn't Depend On A Traditional Home
White picket fences, backyard swing sets, and chocolate chip cookies served fresh from the oven isn't the backbone of good parenting. For some, a worldly education and a strong community are more important to raising smart, successful kids. That's why many parents are leaving traditional lifestyles. The benefits of alternative parenting reach far. Families who prefer to live off the grid believe they reap the benefits of nature and an eco-friendly lifestyle. And those who live a nomadic lifestyle, traveling to new states and countries instead of owning a permanent home, believe they offer their kids a more a worldly education by exposing their children to new cultures.
Many nomad parents embrace the "un-schooling" movement, or the idea of hands-on learning taking place outside of the classroom — in most cases, often outdoors. As Outside published in a 2014 feature on the movement, nomad parents often feel that "A steady diet of standardized testing and indoor inactivity is choking the creativity right out of our kids. The alternative: set 'em free."
But not everyone agrees with this uncommon approach to educating and raising children. Critics have raised concerns about a lack of structure and guidance, and some embracers of the movement have even been charged with child neglect. According to one survey conducted by Peter Gray, a research professor at Boston College, and Gina Riley, an adjunct professor of special education at Hunter College, 23 percent of adults who were un-schooled as children said they suffered from poor social lives. The study, published on Psychology Today, only included 75 participants. Despite the controversy, for many families (10 percent of the 1.8 million homeschooled children in the U.S., to be exact, according to Outside magazine), the ideal lifestyle reaches far beyond traditional houses and classrooms.
Meet four moms who have taken an unconventional approach to the place they call home. Each spoke to Romper about their nomadic lifestyle, and this is an unfiltered look at who they are, what they stand for, and why they traded in suburbia for a new life.
Crissa Boyink
The Boyink family moved into an RV in September 2010. What began as a year-long trip to see the country evolved into a new lifestyle for Crissa and Michael Boyink and their two children, Harrison (now 19) and Miranda (18). While it was challenging to compress puberty into their 30-foot RV, jokes Crissa, overall, she's thrilled that her family has had the opportunity to lead an adventurous and educational nomadic life. "We got to see the kids truly awed and moved by nature," she tells Romper.
They select their favorite parts of their individual heritages (he's from Italy, and she's from Mississippi), as well as those of the countries in which they've lived, to create a unique family culture.
Plus, the travel-friendly lifestyle has left an imprint on both of the Boyink kids. Harrison recently moved out of the RV and, thanks to his upbringing, confidently navigates his own solo travels around the U.S. Miranda, who initially didn't want to live on the road at all, is beginning to think about her next phase in life. "She talks about starting out in different places as casually as other girls might talk about what blouse to wear," says Crissa.
To connect with others and offer their own expertise to families interested in pursuing an alternative lifestyle, the Boyinks launched a blog and began to work on a book, Ditching Suburbia. Through their website and Instagram hashtag #ditchingsuburbia, they've connected with thousands of other parents on the road with whom they exchange emails and occasionally meet in person. Last winter, Crissa and her family hosted a meet up in Austin, Texas for more than 40 families, where they discussed how to plan routes, educate kids on the road, and what this new way of life means for the American Dream.
Her advice for nomads-to-be?
I think there's a perception that the suburbia-ditching lifestyle is only for rich people. For us, the cost of living in our RV is roughly the same as our house was. We just traded a mortgage for a fuel bill, and if gas prices go up we can just stop driving as much.
Lynn Morrison
Author, wife, and mother of two, Lynn Morrison isn't your typical nomad. Rather than bouncing around quickly, her family prefers to buy a house and stay for a few years to fully embrace the culture before moving onto their next destination. She left San Francisco for the Netherlands when her first child was 7 weeks old, then moved to England four years later.
Lynn is grateful for the way her nomadic lifestyle has given her a fresh perspective when it comes to parenting. For example, her British friends place their children in a boatload of extracurricular activities, while her Italian friends are a year behind her kids in school and think she's rushing the education too quickly. So she and her husband are finding a compromise between cultures. They select their favorite parts of their individual heritages (he's from Italy, and she's from Mississippi), as well as those of the countries in which they've lived, to create a unique family culture. "If we'd only ever lived in the U.S., or the UK, or Italy, we'd be convinced that our particular way of parenting and schooling was right. Instead, we have the freedom to assess them all and find what works for us." She told Romper,
When you step into a foreign land, you gain a unique perspective on just how much your culture impacts your views on parenting.
And if Lynn could tell critics of her nomadic parenting just one thing, it'd be this:
It's a big, big world out there and if you really, really want to do what is best for your child, maybe you should lift your head up and look around you a bit more.
Lainie Liberti
For Lainie Liberti and her 17-year-old son Miro, traveling is a form of education. The two embraced the un-schooling movement and took it to the next level: worldschooling. Worldschooling combines travel with the experienced-based, real-world philosophy of un-schoolers. The Libertis began traveling when Miro was 10, and now he's explored 20 different countries, learning about the culture of each.
Their lifestyle also changed Lainie's parenting approach. "As we began our travel adventure," says Lainie, "we adapted a partnership paradigm which spilled into other parts of our lives, including the parent-child relationship and education."
When the single mom started traveling with her son, the duo kept a blog to track where they'd been and stay in touch with family and friends. Lainie was surprised when she began receiving floods of emails from other parents looking to pursue a similar path. That's why she took over the Worldschoolers Facebook group from another unschooler named Eli to cultivate a community to discuss travel and education topics and share personal triumphs and challenges. "Each week we post several regular threads. Mondays are items for sale, Tuesdays have a 'Tasty Tuesday' food post, and Friday is my 'Where in the World are the Worldschoolers this Week?' post," says Lainie.
Four years ago, the Libertis founded Project World School, a website that helps creates temporary learning communities around the world so teens and young adults can collaborate, regardless of their approach to education. The project was meant to help fulfill a sense of community that Miro missed during their life on the road. This year, the first Project World School summit was held in Mexico for 150 people. The group will continue to host retreats and events in places like Ecuador, Peru, Mexico, Wales, South Africa, Greece, and Thailand over the next couple of years where participants will learn about surfing, marine biology, conservation in the Amazon jungle, and archeology and history in Cusco and the Sacred Valley.
The remote area was home to a group of five friends who were eager to start a new life on land that they could afford. "Living simply was appealing to me and I had some experience with it," says Michelle. "So it didn't seem like a huge break from my previous life."
Despite the success of Project World School and the Worldschoolers Facebook group's growth to over 14,000 members, Lainie does not consider herself as an expert in the style of learning. She says she and Miro are "simply experiencing our own lives with wide-eyed wonderment and allowing the journey to unfold naturally," and that "the world around [them] supplies the best stimuli and conversation starters."
When it comes to parents hoping to delve into the world as Lainie and Miro see it, Lanie suggests parents:
Avoid over planning, overpacking, and not trusting that your kids are getting a valuable education — because they most definitely are.
Michelle Nijhuis
Michelle Nijhuis doesn't lead an alternative lifestyle anymore. She spent the years before she met her husband hopping around from town to town and job to job, but when they began dating, he'd already purchased a plot of land in western Colorado. The remote area was home to a group of five friends who were eager to start a new life on land that they could afford. "Living simply was appealing to me and I had some experience with it," says Michelle. "So it didn't seem like a huge break from my previous life."
There, Michelle's husband had just finished building a straw-bale house where they'd live from 1999 until 2013. In 2008, Michelle's daughter was born. She was thrilled to give her baby the opportunity to grow up in an environment that relied on so little. They had solar power and a composting toilet. "I hoped she would grow up with a different definition of needs and wants than most people in our society have," says Michelle.
But the small commune the friends had built felt isolated. One mile from the nearest town, where Michelle's daughter attended school, five hours from the Denver International Airport, and six hours from Salt Lake City, it was hard to come and go and Michelle didn't want her daughter to miss out on museums, the theater, and a larger group of friends. So they moved to Washington in 2013, when her daughter was 5. There, her daughter, who still has vivid memories of her early years on the commune, adjusted to a more traditional home life — though Michelle did overhear her excitedly informing her new friends that they had a flush toilet in their new house. "I still wish we lived off the grid though," says Michelle. "We're sort of moving toward doing that again and I hope we can do that here." Looking back on the time they spent off the grid, Michelle hopes that her daughter will "retain those memories of having everything she needed without having very much."
Speaking candidly about life off the grid, Michelle warns that gender roles are an "important consideration." "I saw it happen so often where people would get stuck in traditional gender roles that they never meant to be in. When people are embarking on nomad or alternative parenting, it's important, no matter what your family looks like, to talk about gender roles and who's going to be responsible for what."