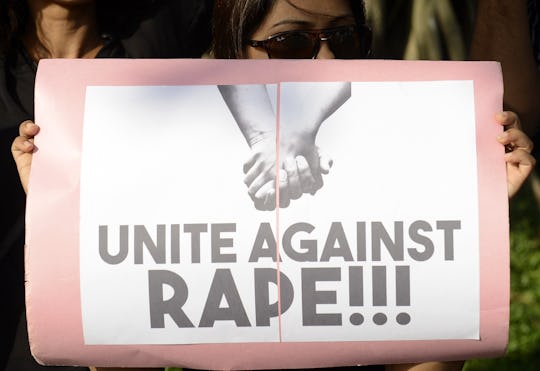 LAKRUWAN WANNIARACHCHI/AFP/Getty Images
These 7 Cases Show The Lenience Of Brock Turner's Sentence Isn't Unique
On June 2, a Stanford University swimmer named Brock Turner was given a six-month jail sentence for sexually assaulting an unconscious woman behind a dumpster. In an article that covered the case, Turner was described not as a criminal or even a crime suspect, but as an elite athlete who graduated from an elite high school. Despite his conviction, the judge gave him a short sentence because he believed "a prison sentence would have a severe impact on him," proving, once again, that justice is not blind. Sadly, Brock Turner isn't the first person to get a lenient sentence for rape conviction. Here is a brief history of our legal system's hesitation to hold sexual assault criminals accountable.
During the course of the trial, the 23-year-old victim addressed Turner directly by reading an extremely powerful, lyrical statement describing her experience of waking up without a memory of that night, piecing together what happened, being doubted, and being blamed for her own assault. She wrote,"it's like if you were to read an article where a car was hit, and found dented, in a ditch. But maybe the car enjoyed being hit. Maybe the other car didn't mean to hit it, just bump it up a little bit. Cars get in accidents all the time, people aren't always paying attention, can we really say who's at fault." Her words no doubt resonated with other victims of sexual assault, and she ended her letter calling out to them. She wrote:
To girls everywhere, I am with you. On nights when you feel alone, I am with you. When people doubt you or dismiss you, I am with you. I fought everyday for you. So never stop fighting, I believe you.
Robert H. Richards IV
In 2009, Robert H. Richards IV received an eight-year prison sentence for raping his toddler daughter, according to CNN. Like Turner, Richards came from a privileged background. He was the great-grandson of a chemical industry mogul named Irenee du Pont, and heir to a large, longstanding family fortune. Though he was convicted and sentenced, according to CNN, the Delaware judge handling his case said that the "defendant will not fare well" behind bars. His sentence was suspended and Richards was placed on probation instead. Other than that probation, registration as a sex offender, and a letter stating he had to seek treatment, Richards received no other punishment for his crime.
Stacey Rambold
In 2007, a high school teacher in Billings, Montana, named Stacey Rambold raped his student, Cherice Moralez, according to Reuters. Before the case could go to trial, Moralez killed herself, leaving zero evidence for her legal team, which had been counting on her testimony. Rambold pleaded guilty to one count of rape, and the prosecutors agreed to dismiss the case if Rambold agreed to complete a sex offenders' treatment course. After Rambold was kicked out of that treatment center, the case was brought back to trial. He pleaded guilty and was sentenced to 15 years in prison. His judge suspended the sentence and instead gave Rambold 31 days in prison. He's since been re-sentenced and is serving 10 years in prison.
Austin Smith Clem
In 2013, Austin Smith Clem was found guilty of raping Courtney Andrews three times, according to CNN. He raped her twice when she was 14-years-old and once more when she was 18 when they were neighbors living in north Alabama.
According to Clem's sentencing order , Clem was given 20 years in prison for two of the rape counts and another 20 years for the final charge. However, the judge handling the case wrote the sentence in such a way that Clem would only have to serve jail time if he violated his probation. Instead, his punishment would be supervision under the Limestone County community corrections program and a fine. Clem would be free to live at home, but would have to check in with a corrections officer every week. Dan Totten, Clem's defense attorney, spoke to Mother Jones in 2013 about the case. He maintained that the very mild sentence was fitting for the crimes. He said:
It would seem to be relatively mild. But [Clem's] lifestyle for the next six years is going to be very controlled…If he goes to a party and they're serving beer, he can't say, 'Can I have one?' If he wanted to go across the Tennessee line, which as the crow flies is eight or nine miles from his house, and buy a lottery ticket, he can't do that…It's not a slap on the wrist.
His sentence was protested, and he was re-sentenced. Again, he avoided jail time.
Mark Thompson
At the United States Naval Academy, two female students accused Marine Major and former academy instructor Mark Thompson of sexual assault. One of them called it rape. Both women had been drunk and walking with Thompson between St. John's college and the Academy on the day of the rival school's annual croquet match. Thompson was court-martialed, but found not guilty of sexual assault. He was convicted instead of several counts of indecent acts, conduct unbecoming an officer, and fraternization. For these crimes he was sentenced to 60 days in jail, a fine, and a reprimand that would go on his permanent record. He could continue being an officer. According to the Washington Post, he appealed the sentence, and his case went to a board of inquiry. That board found him not guilty for all charges. His case is being reexamined after it was found that he lied several times under oath.
Sir Young
In 2014, Sir Young was sentenced to five years probation by Dallas County Judge Jeanine Howard after admitting that he did in fact rape a 14-year-old girl. Additionally, Howard made Young's probation requirements more lenient. He would not have to go to sex offender treatment or counseling, he would not have to stay away from children, nor he would not have to have a sex offender evaluation. According to the Dallas Morning News, District Attorney Craig Watkins was disturbed by the ruling. He said,
This young lady was 14 at the time she was sexually assaulted at school, and we cannot send the wrong message to rape victims who have the courage to seek justice. I am disappointed the judge would choose to give the defendant probation after he admitted guilt, but even more alarmed the judge failed to impose standard sex offender conditions of probation designed to protect society.
When Howard was asked about her sentencing, she cited several reasons for letting Young off easy. She said that the girl had texted Young and wanted his attention, had three previous sexual partners, had given birth in the past, and had agreed to have sex with him. Howard said that she just "wasn't the victim she claimed to be."
Jose Arriaga Soto Jr.
In 2012, Jose Arriaga Soto Jr. was accused of beating and raping a woman in East Grand Forks, Minnesota. He pleaded guilty and was found guilty of first-degree criminal sexual conduct. While a 12-year sentence was recommended, the judge on the case, Judge Jeffrey Remick, reduced it to 30 years of probation instead because Remick believed that Soto was a perfect candidate for remediation and counseling, according to the Minnesota Star Tribune. This sentence was particularly shocking given the violent nature of the crime. The assault lasted two hours and involved two men. The victim was strangled, bitten, repeatedly slapped, and received a number of other injuries. That was enough for the Minnesota Supreme Court to reexamine the case, which they did a year later.
Thomas Boden
In 2015, Brittany Lynn Rosser accused her then-boyfriend Thomas Boden of sexually assaulting her 2-year-old daughter, according to Rawstory. The child had been clearly violated (it was later confirmed at the hospital) and her 4-year-old sister had witnessed the attack. Boden was charged with aggravated sexual assault, but was offered a plea deal of 10 years probation and no further contact with the victim. He agreed and did not have to register as a sex offender. The prosecutors who offered him the deal said they did it to spare the young children from having to appear in court. They were worried that, given the lack of adult witnesses, Boden would get an even lesser punishment or walk away with a verdict of not guilty.
This is by no means an exhaustive list of cases where the criminal has been excused, forgiven, or given another chance. According to RAINN, sexual assault convictions, in general, are rare. Out of 1,000 rapes, 994 perpetrators will walk free. (This list of rape accusations that involve college athletes is extensive, and, more often than not, entries end with an update that charges have been dropped.) Turner's case may be the latest, but it's just another reminder that the legal system favors some over others. If criminals are famous, attractive, athletic, or even just white and male, punishments are more perfunctory than mandatory. Despite a woman's life being forever changed by a sexual assault, time and time again, judges and lawyers choose not to change the criminal's life because — in Judge Aaron Persky's words — it would have "a severe impact" on them.