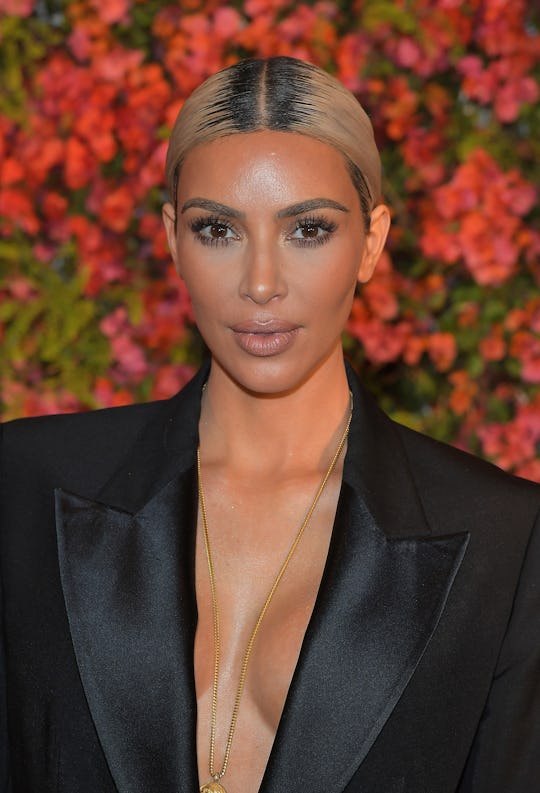 Charley Gallay/Getty Images Entertainment/Getty Images
These 7 Kim Kardashian Quotes About Surrogacy Prove It's Anything But Easy
Surrogacy certainly seems like it would be a complicated and emotionally-charged process — and yet some people continue to look down on this unconventional way of bringing a child into the world as the "easy way out." They scoff at how "unnatural" it is, and some even judge parents for the motives behind their decision. However, Kim Kardashian's quotes about surrogacy prove it definitely isn't the easy way out.
Kardashian and her husband, Kanye West, currently have two children — a daughter, North, 4, and a son, Saint, 1 — whom Kardashian physically gestated. However, both of these pregnancies and deliveries were wrought with complications, making the possibility of Kardashian carrying a third child herself extremely dangerous. Rather than risk her life, the couple started exploring the idea of surrogacy.
Rumors surrounding the reality star and an alleged surrogate pregnancy started flying back in July, until news of baby number three was officially confirmed by Kardashian in October. Since then, the 37-year-old reality superstar has been incredibly honest when it comes to sharing the journey of growing her family through surrogacy. Here's a look at what Kardashian has revealed about having a baby via surrogate:
1. It's Difficult To Accept, At First
In April, the reality star opened up about coming to terms with surrogacy on Keeping Up With the Kardashians, according to E! News.
I'm definitely leaning more toward I want to try. After talking to Kanye, I think that I always knew that surrogacy was an option, but I didn't think it was that realistic of an option. Now, I feel like that's my reality ... I feel like surrogacy really is the only other option for me.
2. Not Being In Control Can Be Tough
Kardashian opened up to Entertainment Tonight earlier this month about a rather difficult factor of surrogacy: control.
You know, it is really different. Anyone that says or thinks it is just the easy way out is just completely wrong. I think it is so much harder to go through it this way, because you are not really in control.
3. Irrational Guilt Comes With The Territory
In the same interview with Entertainment Tonight, Kardashian explained how being able to carry North and Saint and not her third child has been weighing on her.
Obviously you pick someone that you completely trust and that you have a good bond and relationship with, but it is still ... knowing that I was able to carry my first two babies and not, you know, my baby now, it's hard for me.
4. Second-Guessing The Process Happens, Too
Kardashian also told Entertainment Tonight that even though her pregnancies had been so brutal, she still wanted to be able to carry her third child if she could, explaining:
I hated being pregnant and I never thought I'd ever ... I thought this was going to be so easy, but you know, even in how much I hated it, if I could do it myself I would have preferred that. So, that inner struggle is kind of hard, but I am just rolling with it and it is what it is.
5. It Can Be Harder For Young Kids To Grasp
Kardashian told Entertainment Tonight that while North and Saint are both excitement to be welcoming a baby sister, not having that physical reminder that a sibling is on the way is a different experience. She said:
I don't know if they don't feel it as much because they don't see my big belly and probably hear me complaining every two seconds. But, we do talk about it a lot, so I think they are really excited.
While on The Ellen Degeneres Show, Kardashian went on to explain that having a baby shower for her third child was one way that has helped her children in this area. According to People, she explained:
We had a baby shower over the weekend, and I thought, "You know, I really do want to have a baby shower because I want [North] to feel that something's coming and for her to really understand it."
6. Although The Outcome Is Worth It, It's Still A Process.
Kardashian told Entertainment Tonight that, although she's ready and accepted this experience, it's still takes time to "digest." She explained:
I think it is definitely a different experience and I am blessed that I am able to do this, and technology is the way that it is that we can do this. But it is still a process that you need to digest.
7. Without That Physical Reminder& Motivator, It's Easy To Feel Unprepared
Without a pregnant and growing belly, Kardashian explained to Entertainment Tonight last week that preparing for baby number three's arrival has been very different experience for her. She said:
I think when you are pregnant, by the time you have the baby, you are so prepared and so ready, and now I am just like, "Oh my God I am going to freak out because I'm not ready and I'm not prepared," but it'll just all come into place.
Although I've never welcomed a child through surrogacy, to me, Kardashian's candor about her journey sheds a lot of light on the emotions surrounding this process. And since she has experienced two pregnancies prior to this experience, I feel like she offers a pretty unique perspective. I'm sure as soon as she holds that baby girl in her arms, the struggles she has faced and the second-guessing will seem like a distant memory.
Check out Romper's new video series, Romper's Doula Diaries:
Watch full episodes of Romper's Doula Diaries on Facebook Watch.