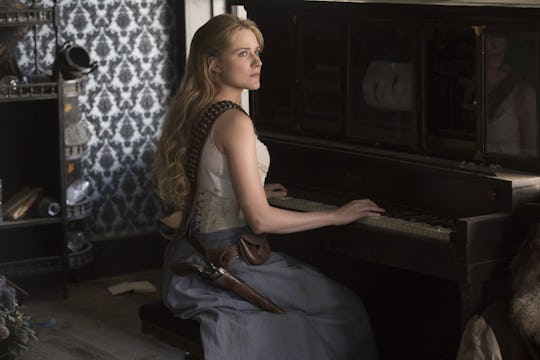 John P. Johnson/HBO
7 'Westworld' Reveals To Help You Figure Out What's Even Happening On The Show
After the insanely brilliant trek into Shogun World, Westworld's sixth episode, "Phase Space", slows down the pace, but reveals some major character developments. Of course, in true Westworld fashion, these developments spurred just as many questions as they answered, but the episode did help bring the story to a character nexus. Bearing in mind that things aren't always what they seem on this show, these Westworld reveals might help you figure out WTF is going on with the characters so far.
"Phase Space" turned out to be a little less action packed then the last episode, but it did have its share of amazing moments, including the elegant, yet brutal sword fight between Musashi and his arch rival Tanaka. And when Akane lays Sakura to rest at Snow Lake, her reiteration of Maeve's sentiment -- "We each deserve to choose our fate, even if that fate is death." -- is pretty poetic.
But beautiful moments aside, their was plenty of character growth in this episode, which brought some of the story lines into perspective. Remember, nothing is ever certain when it comes to this crazy, wonderful show, but here are a few of the crucial details revealed in Westworld that you can easily take to the water cooler to discuss.