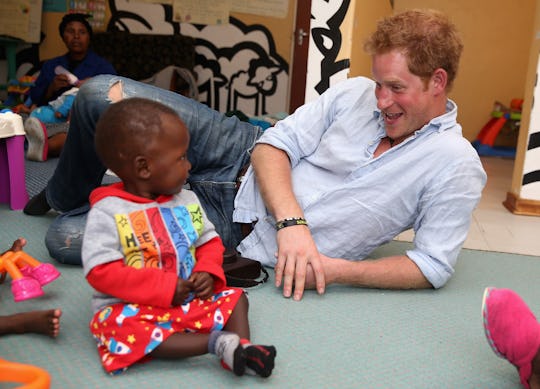 Chris Jackson/Getty Images Entertainment/Getty Images
Here's Some Adorable Evidence That Proves Prince Harry Will Be The Best Dad
With Meghan Markle's due date rapidly approaching, I can't help but imagine the flood of sweet family photos to come. Prince Harry's charity work and public outings have afforded him many chances to be photographed with little ones. As such, these adorable Prince Harry moments with kids prove he'll be the best dad.
Kensington Palace announced Markle's pregnancy back in October, sharing the official message from the family. And just a couple of months ago, Markle told fans while she was out in Hamilton Square, that her due date is in late April. "We asked her how her pregnancy was going and she said she was six months and she tapped her tummy," a supporter named Carla Gandy reportedly told People.
From there, fans and the media alike tracked Prince Harry and Markle's journey towards parenthood, counting down the days until the world would be blessed with yet another royal baby. And while there are likely still a few weeks left until the baby makes his or her arrival — Markle and Prince Harry don't know the sex of their baby yet, as is royal protocol, according to Elle — there are quite literally hundreds of photos of Prince Harry interacting with children to hold you over until the baby is born.
Just a few of the sweet interactions are catalogued for you below. Try to make it through them without dying of royal baby fever.