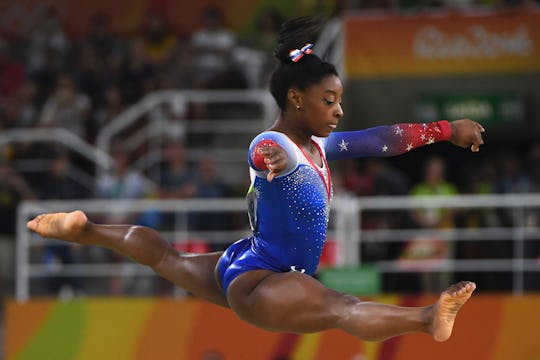 TOSHIFUMI KITAMURA/AFP/Getty Images
These Adria Biles Quotes About Simone Biles Are Seriously The Best Ever
There's nothing sweeter than a loving sister-sister relationship. And since it's easy to forget that the athletes competing in the Rio 2016 Olympics are humans – well superhumans that is – every sweet-human interaction shown in their private lives gives all the feels. Simone Biles is widely, and understandably, viewed as the world's best gymnast. Biles will leave Rio with five medals, and four of them gold. She's outstanding and breathtaking to watch. But she's also a 19-year-old young woman and big sister to Adria Biles, 17. Judging by the snippets of their interviews and video clips floating around the internet, their relationship seems very loving, and likely relatable for those with close siblings. That's why these Adria Biles quotes about Simone Biles are amazing to read. It's clear these sisters support for each other, and it's just too cute.
In a 2013 interview with Flogymnastics, Adria, who is also a gymnast, explained how excited, and emotional she felt watching her sister as she won gold in the All-Around final in the World Artistics Gymnastics Championships in Belgium.
"I actually started crying, I was so overwhelmed and so excited,and I was like 'Oh that's my sister,'" Adria Biles said. "And it's just really exciting."
And Adria's sweet quotes about her sister doesn't end there. There are plenty of more awe-inducing remarks.
"I'm so lucky to have someone like you to call my sister/best friend everyday with you is a different adventure and whether we're laughing crying or punching each other in the end I still love you probably more than you know."
Adria wrote this birthday message for Biles, who she referred to as her "best friend." And if that's not sweet enough, Biles commented: "thanks adria love you so much sistabooo... see ya soon." Tears.
And there's more Instagram love where that came from:
"Even though I won't be there this weekend I'll still be watching screaming and cheering you on! good luck sister."
"You're doing great kid hang in there!"
"You are a princess today and don't let your head down or else your crown will fall stay positive today."
"You're stupid... love you!"
This might be my favorite quote. Let's face it, they're sisters and "you're stupid" is universal sibling language for "you drive me absolutely crazy but deep down inside I wouldn't have you any other way." Adria uploads fun YouTube videos, featuring her sister, and their interactions shown on camera are priceless.
And if you need a good laugh, check out Adria Biles' video of her and Biles trying to make each other laugh. I'd say there's a good chance it'll having you laughing too. Because seriously, the Biles sisters are also friendship goals.