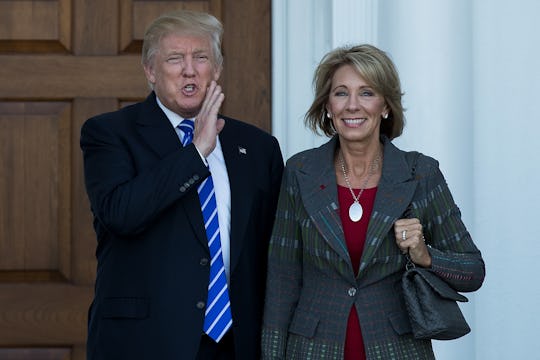 Drew Angerer/Getty Images News/Getty Images
These Betsy DeVos Quotes Will Make Parents & Teachers Very Worried
President-elect Donald Trump has named former Michigan Republican Party chairwoman Betsy DeVos as his secretary of education, the Wall Street Journal reported on Wednesday. DeVos is chairwoman of the American Federation for Children, and an advocate for charter schools. She's not very well-known, but quotes from Betsy DeVos might concern many parents and educators. On her website, DeVos states that, when it comes to Common Core, "I am not a supporter – period."
DeVos' support of charter schools and vouchers hinges on the idea of children "being trapped by their zip code in a school that failed to meet their needs" (per her website), while detractors argue that that the program funnels money away from public schools that already lacked the necessary funding, often hundreds of millions of dollars per district. A recent ballot question in Massachusetts aimed at expanding charter schools was recently roundly defeated, and Boston Mayor Marty Walsh, along with 29 other Massachusetts mayors, strongly opposed the measure, according to MassLive, saying that the loss of public school funding would ultimately have to be made up for by raising taxes. Remember all that money Trump said he would save everybody on taxes? This is not how to do it.
On Wednesday, DeVos tweeted, "I am honored to work with the President-elect on his vision to make American education great again. The status quo in ed is not acceptable." (It was her third tweet, ever.) This appears to indicate that she intends to overhaul the Department of Education, as does a 2013 interview with Philanthropy magazine, which refers to her as "Betsy DeVos, the Reformer." In it, she discusses heading a PAC "devoted to promoting education reform through the expansion of charter schools" in Michigan, and her desire to "do this nationally." It's unclear how she expects public schools to improve if they have no students or funding.
Far more troubling, though, are the quotes about DeVos. In response to the nomination, Lily Eskelsen García, president of the National Education Association, issued a scathing indictment of DeVos, stating that "her efforts over the years have done more to undermine public education than support students." García also accused DeVos of lobbying for "failed schemes" and pushing "a corporate agenda."
American Federation of Teachers president Randi Weingarten concurred, releasing her own statement calling DeVos "the most ideological, anti-public education nominee put forward since President Carter" with "no meaningful experience in the classroom or in our schools." Wait, it gets worse! Weingarten said:
The sum total of her involvement has been spending her family's wealth in an effort to dismantle public education in Michigan. Every American should be concerned that she would impose her reckless and extreme ideology on the nation.
DeVos has not responded to Romper's request for comment regarding Weingarten's claim. Hell hath no fury like a teacher scorned, and these educators are furious at the prospect of DeVos heading the Department of Education.