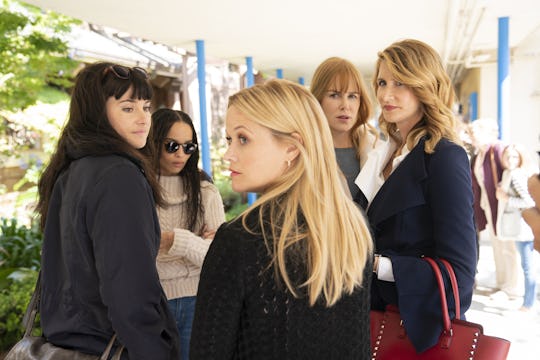 Jennifer Clasen/HBO
Fans Can't Wait A Minute Longer For 'Big Little Lies' Season 2
When it was first announced that HBO's Big Little Lies would have a second season, even the most dedicated fans weren't sure it was the right decision. Intended as a limited series, its ending was championed as the perfect way to cap off the seven-episode season. But as the Season 2 premiere inches ever closer, excitement has once again taken over the audience. These Big Little Lies Season 2 tweets prove that.
When Season 1 ended, Celeste (Nicole Kidman), Madeline (Reese Witherspoon), Jane (Shailene Woodley), Bonnie (Zoe Kravitz), and Renata (Laura Dern) were bound together by one pretty huge lie: they were covering up a murder. After clocking the fact that Celeste's husband Perry (Alexander Skarsgard) was abusive, Bonnie pushed him off a ledge to his death, but none of the women were going to expose her for it. No one was exactly sorry to see Perry go. Instead they snuggled up together on a beach, seemingly content despite all they had endured.
It was a beautiful end to the season, even though that respite clearly didn't last. The past will be dredged up again in Season 2, especially now that Perry's mom Mary Louise (Meryl Streep, Queen of Acting) is in town. Fans may have been hesitant about seeing the story continue, but now they're taking to Twitter to eagerly count down the days to Jun. 9.