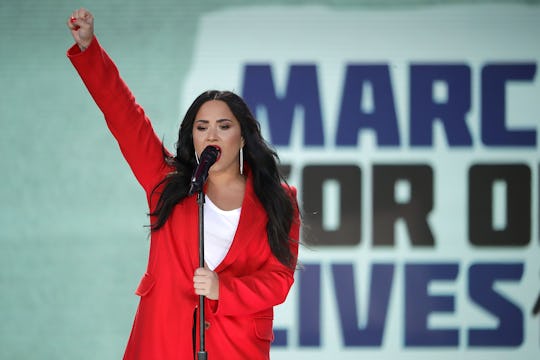 Chip Somodevilla/Getty Images News/Getty Images
These Celebrities Are Supporting The March For Our Lives Today & It's So Inspiring
On Saturday, March 24, protesters made their opinions about gun safety in the U.S. heard — loud and clear. That's because millions of students, teachers, and families from around the world gathered to take part in the March For Our Lives. This incredible movement is a direct response to the Feb. 14 mass school shooting in Parkland, Florida — during which 17 teachers and students were killed when a gunmen entered Marjory Stoneman Douglas High School with a semi-automatic assault rifle. These celebrities are supporting the March For Our Lives today, and their social media posts are so inspiring.
Of course, it's no secret that celebrity faces were expected to among the crowds of the March For Our Lives in Washington, D.C., as well as sister marches across the country. As Parkland shooting survivor David Hogg revealed to CNN on March 14, Ariana Grande, Jennifer Hudson, Miley Cyrus, and Demi Lovato all confirmed that they would be participating in the protest today. And plenty of other celebs — like George and Amal Clooney, Stephen Spielberg, Oprah, John Legend and Chrissy Teigen — have all pledged monetary support for the March For Our Lives.
So let's take a look at which celebs showed up and/or posted on social media for the event, shall we? There was ...
Taylor Swift
As HuffPost reported, Taylor Swift took to Instagram on the eve of the March For Our Lives to pledge her support for the cause. "No one should have to go to school in fear of gun violence. Or to a nightclub. Or to a concert. Or to a movie theater. Or to their place of worship," Swift wrote. She continued:
I've made a donation to show my support for the students, for the March For Our Lives campaign, for everyone affected by these tragedies, and to support gun reform. I'm so moved by the Parkland High School students, faculty, by all families and friends of victims who have spoken out, trying to prevent this from happening again.
Demi Lovato
In Washington, D.C., Lovato gave an emotional performance of her song, "Skyscraper," as crowds looked on.
Ariana Grande
Ariana Grande was there, too! She performed "Be Alright" in Washington, D.C.
Ellen Pompeo
As Cosmopolitan reported, Ellen Pompeo also showed up on Saturday to march. The Grey's Anatomy start took to Instagram to share a photo of the crowd, writing, "This is the America I know and love #getout GOP #votethemout."
Kim Kardashian, Kanye West, & Family
Kim Kardashian took a moment on Saturday morning to announce that she had landed in Washington, D.C. for the March For Our Lives. The reality star also re-tweeted her sister, Kourtney Kardashian's message ahead of the march.
And just for the record, Kardashian took to Instagram for a photo op, too.
Paul McCartney
The former Beatles member was there, too, as E! Online reported. McCartney told CNN that he was attending the March For Our Lives event in New York City in remembrance of former bandmate, John Lennon. "I don't know" if we can end gun violence, McCartney told CNN. "But this is what we can do, so I'm here to do it." He continued:
One of my best friends was killed in gun violence right around here, so it's important to me.
Miley Cyrus
Cyrus shared a family shot on Twitter ahead of the march on Saturday morning. "Surrounded by heroines!" she tweeted. "Lucky to be here at this moment in history with the ones I love! #MarchForOurLives."
Will Smith
On Saturday morning, Will Smith posted a photo of a March For Our Lives T-shirt, also writing, "My wardrobe for today. I am honored to support these students from all around the world who are coming together to, as Gandhi said 'Be The Change'! Add YOUR voice and join them on the streets today to show that ENOUGH IS ENOUGH."
Oprah Winfrey
As Variety reported, not only did Oprah Winfrey donate money toward the March For Our Lives, but she also took to the streets on Saturday to protest.
Stephen Spielberg & Kate Capshaw
The director and his wife were among the long list of celebs who came out on Saturday to protest, E! Online reported. (Although they haven't posted to social media about their attendance.)
Yara Shahidi
Jimmy Fallon
Amy Schumer
Josh Gad
George & Amal Clooney
Dwayne Johnson
Billy Crystal
Amy Poehler
Nick Offerman
Lin-Manuel Miranda & Ben Platt
Common & Andra Day
Padma Lakshimi
As if the brave group of Parkland students who organized the March For Our Lives weren't inspiring enough, the overwhelming support from celebrities has only driven the point home: Enough is enough. Americans will no longer stand by idly while innocent victims die because of gun violence.