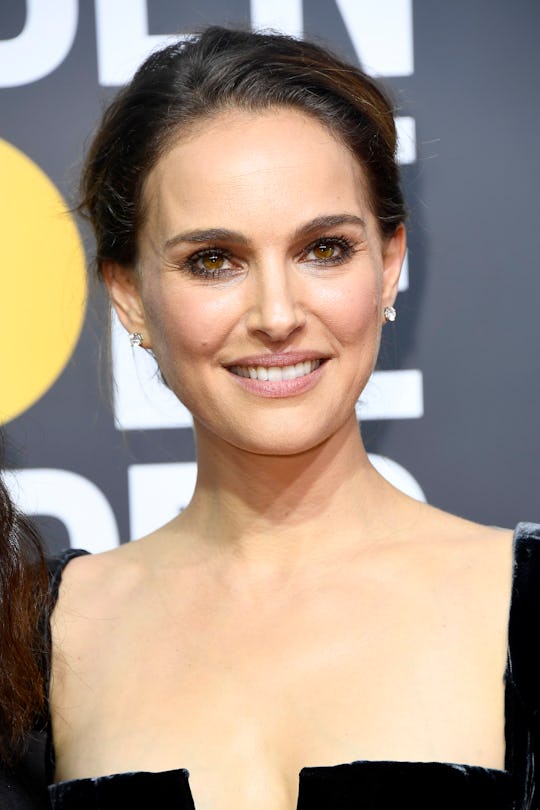 Frazer Harrison/Getty Images Entertainment/Getty Images
These Celeb Photos Of The Women's March Prove Activism Is Alive & Well In Hollywood
Celebrities have a lot of influence, both on-screen and off. Whether they like it or not, singers and actors serve as role models to young children, as well as symbols of inspiration to adults. Although some people might argue that stars should just stick to what they do best — singing, acting, dancing, modeling, etc. — there are many famous people who use their fame as platforms for political issues. And these celebrity photos of the Women's March prove activism is alive and well in Hollywood.
Earlier in January, the world looked on as nearly every attendee of the Golden Globe Awards wore black in solidarity with victims of sexual misconduct. Furthermore, acceptance speeches were filled with both words of empowerment for women and with references to the #metoo and #timesup movements — which have made sexual misconduct allegations a recurring topic of conversation in recent months. Still, if these instances haven't already convinced you of Hollywood's activism, be prepared to be swayed. Because as People reported, there were plenty of famous faces mingled in the crowds during the Women's March on Saturday. Like A-list pals, Adele, Jennifer Lawrence, and Cameron Diaz, for example.
On Instagram, Adele shared that she took part on one of the Women's March "Power to the Polls" events. The Grammy-winning singer posted a photo of herself, Diaz, and J-Law, alongside a powerful message. "The most influential people in my life have always been women," she wrote. "My family, my friends, my teachers, my colleagues, and my idols. I am obsessed with all the women in my life. I adore them and need them more and more every day." Adele continued:
I am so grateful to be a woman, I wouldn't change it for the world. I hope I'm not only defined by my gender though. I hope I'm defined by my input to the world, my ability to love and to have empathy. To raise my son to be a a good man alongside the good man who loves me for everything I am and am not. I want what's best for people, I think we all do. We just can't agree on what that is. Power to the peaceful, power to the people x #womensmarch2018
Comedian and actress Amy Schumer was another famous face who showed up for the Women's March on Saturday, according to Us Weekly. "Today we march #timesup," Schumer wrote on Instagram, along with a selfie of herself with fellow protesters.
Entertainment Weekly reported that Wonder actress, Sutton Crawford, was yet another celeb marching. "We're on our way to the #WomensMarchNYC2018 #WomensMarch2018 and the entire train is protestors!" Crawford tweeted. "So excited! #resist"
Alyssa Milano posed for a photo with a special woman on Saturday, Us Weekly reported. "This woman is everything," Milano tweeted. "She reflects the intelligence and diversity of our beautiful country. This is @staceyabrams, the next Governor of Georgia."
And you can bet Ashley Judd was back for another Women's March event. Remember when her powerful performance of that "nasty woman" poem went viral last year? (Seriously, who could forget that? It gave me chills.) "I am still a proud #NastyWoman," Judd tweeted on Saturday. "Let them hear us roar!"
Natalie Portman, who served as a speaker at the Women's March in Los Angeles, posted an Instagram story of her experience. This included a snapshot of the actress wearing a blue ball cap with the message, "Make America Gay Again" written on the front. (Personally, I think this is infinitely superior to what Trump supporters wear.)
For those who weren't at this march, a video of Portman's speech was also shared on her Instagram.
Actress Viola Davis — the only black woman to have won an Oscar, an Emmy, and a Tony, by the way — also spoke at the Los Angeles march, Vogue reported. Davis re-tweeted video of her moving speech, during which she revealed she is a victim of sexual misconduct. "I am speaking today not just for the MeToos," she said, according to the publication. "Because I am a MeToo. When I raise my hand it's for all the women who are still in silence, the women who are faceless."
There was also ... Drew Barrymore.
Eva Longoria.
Amber Tamblyn. (And many more.)
I don't know about you, but I'm loving seeing so many celebrities out there marching with the "commoners." (Too bad I didn't spot any famous faces when I attended a march at my state's capital this afternoon.) With all of these inspiring photos, it's definitely hard to argue that activism isn't alive and well in Hollywood. I hope these powerful women continue to let their voices be heard. Let's keep the momentum going!
Check out Romper's new video series, Romper's Doula Diaries:
Watch full episodes of Romper's Doula Diaries on Facebook Watch.