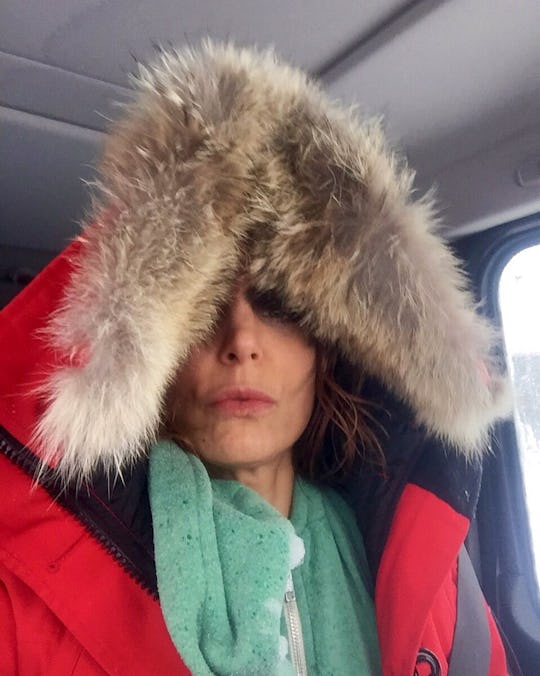 Bethenny Frankel/Twitter
These Celebrity Reactions To Winter Storm Jonas Prove They Feel The Pain Too
Hey — did you know it's snowing here on the East Coast in the United States? You've probably seen just a few tweets or Facebook posts, here or there, maybe even a new story or two. Winter Storm Jonas is here and it is no joke, folks! Even celebrities are caught up in all this blizzard hype, especially those who call some of the worst-hit cities like New York City and Washington D.C. home. It's comforting to know that celebrities react to Winter Storm Jonas pretty much like everyone else: By taking to Twitter and Instagram. They're snowed in just like the millions people in the path of this massive snowstorm.
Of course, we can't talk about Winter Storm Jonas without bringing up some of the most hilarious references we've seen to the storm before it even began snowing — we're talking about the Jonas brothers and Weezer. The Jonas brothers made lots of Winter Storm Jonas jokes on Twitter in the lead up to the storm. Meanwhile, Weezer was keen to jump on the obvious "My Name Is Jonas" reference. But all joking aside, Jonas is wreaking havoc right now, and some NYC-based celebs are tweeting and Instagramming their way through it all right now. Here's the rundown...
Oblig:
The Jonas brothers just couldn't resist:
This American Life host Ira Glass offers a glimpse at how Jonas is impacting the urbanites of NYC — and it's getting dicey out there:
Comedian Lewis Black, always around to cheer us up — or not:
Kelly Ripa is putting hubby Mark Consuelos to work:
Mariah Carey decided the eve of a snowstorm is a perfect time for a pajama party:
This photo of Harlem from Neil Patrick Harris makes me want to put on an extra sweater:
Lots of lovely snow pics from Alicia Keys, Chelsea Clinton, and Sheryl Crow:
But all is not so dreamy and serene, especially for former Sex And The City star Kim Cattrall out on Long Island, as Jonas packs a formidable punch with power outages and flooding:
I think Bethany Frankel sums up the indiscriminate wrath of Winter Storm Jonas for celebrities, normal folks like us, and anyone else out there caught in the snow:
Brrr...!
Images: Weezer, Joe Jonas, Kevin Jonas, Lewis Black, Mariah Carey, Chelsea Clinton, Sheryl Crow, Kim Cattrall, Bethenny Frankel/Twitter; Kelly Ripa, Neil Patrick Harris, Alicia Keys/Instagram