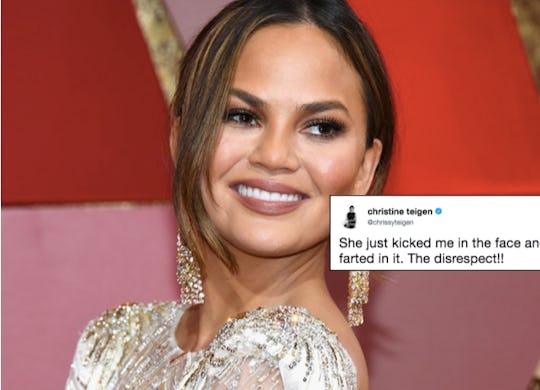 Kevork Djansezian/Getty Images Entertainment/Getty Images & Chrissy Teigen/ Twitter
8 Times Chrissy Teigen Got Hilariously *Real* About Motherhood On Twitter
On Tuesday afternoon, model and general all around badass mom, Chrissy Teigen made one pretty huge announcement — that she is expecting a second child with husband, John Legend. This was exciting for so many reasons because anyone who follows Teigen on Twitter knows that her parenting tweets are some of her best. In anticipation of baby number two, these Chrissy Teigen tweets about motherhood show that she'll be more than ready (and super entertaining) by the time the new baby is born.
Teigen is already a mom to the cutest daughter, 1-year-old Luna Simone. If you follow Teigen on any of her social media channels, then you know that her daughter is absolutely adorable and Teigen's own adventures into motherhood are even better. Together, they've won Halloween with some amazing costumes, starred in a music video, and traveled all over the world.
There is no doubt that Teigen will make a great mom, yet has continued to be mom-shamed throughout the past year she has been raising Luna. Teigen told Entertainment Tonight, according to Glamour, that things in her life changed after having a kid. "Like, anything you got frustrated over about before, nothing really matters anymore," Teigen said. "And I think you just let things go more."
But now that she is a seasoned pro, she will have nothing to worry about. And these tweets show just how much she has learned as a mother already.
The Time She Asked Moms To Commiserate With Her
Sometimes, kids can be real jerks. It happens — one day they're super sweet and next they turn on you. Teigen knows this well — well enough to ask other moms to share their own personal stories of their kids being mean to them. Almost immediately, other moms began chiming in with horror stories of their own. Because when you're a mom, sometimes it is best to know you're not alone.
The Time She Understood What Childbirth Really Entailed
Diapers, bandages, and sweat pants, oh my. Luckily she will be more than prepared about the aftermath and recovery when the second baby's due date rolls around.
The Time She Wanted To Protect Luna From The Internet & Life...In General
There are some things out there that some moms wish they could protect their children from forever, like the mythological character, Slenderman, and lord knows what else. If only it was easy as putting your child back into your uterus.
The Times She Figured Out The Magic In Breastfeeding
Breastfeeding is just that magical but it wasn't something that was super easy for Teigen to get the hang of. In 2016, Teigen told People that she even had to Google tips on how to breastfeed better. "You just get so confused on how it's supposed to feel, and as hard as anyone said it was, I feel like it somehow managed to be harder," Teigen said.
Now that she knows what she is in for, breastfeeding will hopefully be a little easier this time around.
The Time She Solved Her Parenting Problems With John's Music
Sometimes, it takes the most simple of things to distract your child or put your child in the zone. While her musician father is on the road, there is one thing that does keep Luna zen — his own music. Luckily, there is plenty of that in the Teigen-Legend household.
The Time She Found The Simple Pleasures Of Motherhood
A child's creativity holds no bounds. Like, subbing in a baby doll for a roll of paper towels. With their new child on the way, less than two years apart from Luna, Teigen and Legend are about to find a lot more things like this in their household.
The Time She Figured Out Just How Rude Babies Can Be
Parents don't get any respect. But just wait until there are two children doing that both, at the same time. It never stops.
The Time She Had To Mom-Splain
Sometimes husbands just don't understand. Like this time when Teigen had to momsplain to Legend about what she did all day. The answer was simple — she took care of their child.
Check out Romper's new video series, Romper's Doula Diaries:
Watch full episodes of Romper's Doula Diaries on Facebook Watch.