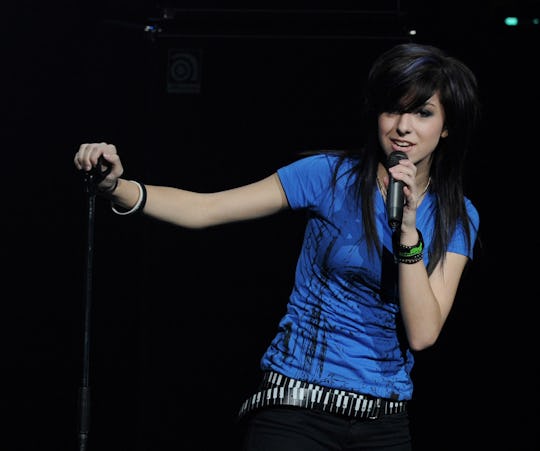 Kevin Winter/Getty Images Entertainment/Getty Images
These Christina Grimmie Videos Show Off Her Awesome Star Power
The death of Christina Grimmie on Friday has shocked many of her fans on social media. The reactions to her sudden death tend to focus on her sparkling personality, but these videos of Christina Grimmie performing show how talented she really was. Grimmie came up as a YouTube star, performing covers of popular pop songs in low-key videos with her and her keyboard. She released an EP Find Mein 2011 and an album, With Love, in 2013, along with opening for Selena Gomez throughout those years. In 2014, she sang Miley Cryus' "Wrecking Ball" during the blind auditions and had all four judges "turn around" in their chairs, leading to her stint on the 6th season of The Voice.
She was on Team Adam and was an immediate fan favorite because of her vocal reach and just being generally awesome. She made it all the way to the finals, but finished in 3rd place. That didn't stop Levine from offering her a record deal with 222 Records records, but she had other offers, too. There were rumors that Lil' Wanye was interested in working with the young artist, but she eventually signed with Island. She was set to release an album with them in fall 2016, which was why she was opening for Before Your Exit in Orlando, Florida on Friday night. She had a lot of success ahead of her.
Luckily for fans, there so many ways to watch Christina perform circling the web. Here are just a few that show how badass she really was.
Her Iconic Blind Audition (Seriously, This Is Amazing)
Doing One Republic's "Counting Stars"
Her & Levine Singing "Somebody That I Used To Know"
The Only Person Who Can Out-Adele Adele
A Little Bieber Never Hurt Anyone
Rocking Sia's "Elastic Heart"
Her & Mike Tompkins Doing Fall Out Boy
She Can Even Strip Down Nelly
And An Early One, Just To See How Much She Grew
Grimmie was obviously talented, long before she made legions of new fans by killing it on The Voice. Carson Daly, host of The Voice, tweeted today how sad he was to hear about her death. "I'm still in shock. She was special. Had IT. Talented. Kind. Funny. Loving. Courageous. We hurt w her family," he wrote.
No one seems to be able to accept that Grimmie was shot after her concert on Friday night. But everyone seems to agree that we're worse off without her work, because damn that girl could sing.