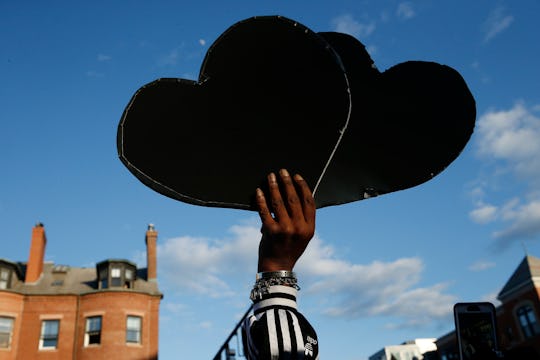 Boston Globe/Boston Globe/Getty Images
Sesame Street, Disney & More Companies Taking A Stand Against Racism Amid Protests
In the midst of powerful, impassioned protests happening across the United States and beyond, a slew of companies have taken a stand against racism and voiced their support for the #BlackLivesMatter movement.
After a 46-year-old Black man named George Floyd was killed in police custody in Minneapolis, protests against racism and police brutality erupted in cities all around the United States and have since spread to more countries around the world. Floyd's death on May 25 marked yet another story of law enforcement killing Black people. In February, 25-year-old Ahmaud Arbery was fatally shot by two white men, one of whom was a former police officer, while jogging in Georgia. In March, 26-year-old emergency medical worker Breonna Taylor was sleeping in her apartment when she was shot and killed by police in Kentucky. According to data compiled by Mapping Police Violence, 1,099 people were killed by police in 2019, with Black people accounting for 24% of those killed "despite being only 13% of the population."
"Enough is enough. Our pain, our cries, and our need to be seen and heard resonate throughout this entire country," Black Lives Matter, the global movement campaigning against violence and systemic racism inflicted on Black communities, wrote on May 30. "We demand acknowledgment and accountability for the devaluation and dehumanization of Black life at the hands of the police. We call for radical, sustainable solutions that affirm the prosperity of Black lives."
Along with the masses of individuals speaking out in support of Black Lives Matter and denouncing racism, a growing number of companies have issued statements standing solidarity with the movement. Among those that have shared their support are big name companies that families with young children are likely familiar with — these are just a few.