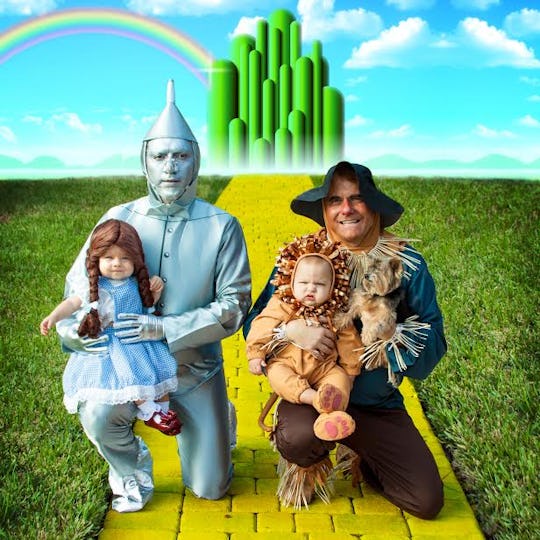 Courtesy of Manny
These Dads DIY Costumes For Their Kids Every Year, & They're Magical AF
Every year, dads Paul and Manny enjoy putting together amazing Halloween costumes for their toddler twins, Adelaide and Augustus. They work hard to create the costumes using both store-bought and homemade parts, and that effort results in some epic DIY looks. These Dads' DIY costumes for their kids are truly magical, and prove that you don't need to run to the store and buy your child an expensive, elaborate costume to really make them an awesome outfit for the holiday.
Paul and Manny welcomed their twins via surrogacy in 2014, according to The Huffington Post. And since then, they've been serving up some seriously stellar Halloween looks as a family that only seem to get better by the year. Manny tells Romper via email:
Halloween is my favorite events of the year and the moment we found out we were having twins (a boy and a girl) I immediately started thinking on family costumes.
For their first Halloween together, the family all dressed in The Wizard of Oz costumes, and that was the start of the fathers' efforts to throw together homemade pieces and store-bought parts to build the themed costumes they all sport.
Manny says he also edits photos of the family in their costumes, sometimes to put them in front of backdrops that fit the ensembles. When it came to The Wizard of Oz look that first year, he told The Huffington Post:
I dreamt this picture and it came out exactly as my dream.
In a guest post for TODAY, Manny wrote that the inspiration for this year's costumes was one of his favorite movies ever: The Fifth Element. The movie is celebrating its 20th-year anniversary, so what better time to channel the characters Manny loves?
Manny admitted that Paul's costume was put together using purchased parts, but that otherwise, they made almost everything for the family's costumes this year. Adelaide portrayed Leeloo, the heroine of the movie. Manny and Paul went as Diva Plavalaguna and Ruby Rhod, respectively, according to The Huffington Post. And their son Augustus is dressed as Korben Dallas, another popular Fifth Element character.
These creative parents also made DIY costumes based on characters from Game of Thrones in the 2016 — costumes that Manny tells Romper took about three months to make. (So... maybe not the most time-friendly DIY for parents.)
That hard work definitely paid off, though, because the final result is really impressive. Take a look at Adelaide, dressed as Danearys Targaryen. Pretty intimidating, in my opinion (not to mention, completely adorable).
But it sounds like their Fifth Element theme was the toughest to tackle yet. Manny told The Huffington Post:
This was a very ambitious project since I didn't have a clue how to make the costumes and have limited sewing experience.
He also said the costumes took around two months to put together and that his Diva getup, in particular, took "a lot of work and a lot of fail patterns."
But it's a good thing he didn't give up, because that hard work really paid off. And the dads didn't have to fork over a ton of cash at a Spirit Halloween store to make it happen. As a bonus, the kids seem to really enjoy it. Manny tells Romper:
I think the kids are still too small to know whats going on but they love it and have a lot of fun.
The kids were even happy taking pictures this year and believe it or not, they actually were collaborating.
Of course, Manny and Paul are far from the only parents who put together DIY costumes for their kids to celebrate Halloween.
A recent LendEDU poll found that the average American spends $70.81 on a costume for Halloween, The Miami Herald reported. But that sort of spending isn't always necessary, and the publication even offered last-minute, inexpensive costume ideas, several of which kids can dress up in — including such gems as "crazy cat lady," a cookie, and puppies from 101 Dalmatians.
And if you need proof that homemade costumes can be just as cool as completely store-bought outfits, you need look no further than Manny and Paul and their super cute kids. They've been successful at DIY-ing their costumes every year, and they only seem to get better at it every time another Halloween rolls around.