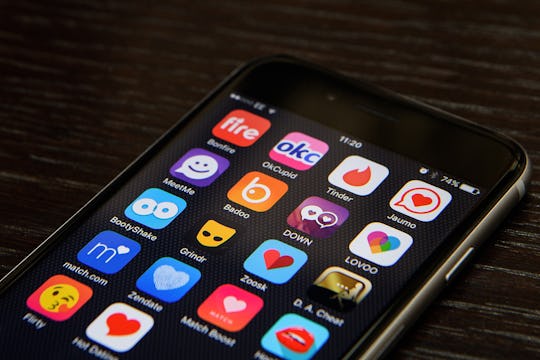 Leon Neal/Getty Images News/Getty Images
Dating Apps Are Banning White Supremacists From Using Their Services
As devastating as the events in Charlottesville, Virginia last week were, they definitely served as a wake-up call to many across the United States. Racism is still very much alive and well here in America, and the riots, hate speech, and fatal act of domestic terrorism displayed in Charlottesville prove just that. Since then, amidst all the fallout — including President Trump's lackluster response — numerous organizations, companies, and persons of public interest have taken a stand against hate groups. And now, these dating apps have banned white supremacists from using their services, and it's about time.
Popular dating app Bumble, as well as the website OkCupid, have both taken effective measures to ensure that vocal, outspoken, and notorious white supremacists won't be able to use their services. On Thursday, OkCupid took to Twitter to inform users that they had taken the initiative and banned one specific white supremacist from their site. "We were alerted that white supremacist Chris Cantwell was on OkCupid," the company announced on their Twitter page. "Within 10 minutes we banned him for life. There is no room for hate in a place where you're looking for love. If any OkCupid members come across people involved in hate groups, please report it immediately."
Bumble, on the other hand, hasn't outright banned anyone (at least they haven't announced that they have), rather they are "working with the Anti-Defamation League and its Center on Technology and Society for guidance on identifying all hate symbols, using their research and terminology as our standards," per a statement from the company. Bumble made this decision after they were bullied by white supremacists. "Last week, a neo-Nazi media site published an article to their community urging them to call and email our team with harassing statements, given Bumble's stance towards promoting women's empowerment," the company said.
And, unfortunately, Bumble isn't alone in being attacked by white supremacists, which is why OkCupid's latest move is so important. Cantwell has spewed hate for years now, and, as USA Today notes, has publicly said some pretty harmful things about dating. "If all I can see is your face – you're a fat girl," he once wrote. And the dating service isn't alone in banning Cantwell. Facebook has also shut down his profile page, with spokeswoman Ruchika Budhraja confirming the news to the Associated Press.
Hopefully, more platforms will follow suit in banning white supremacists from espousing their hateful views to the wider public. Because there really isn't any room for hate out there, in the dating world, or any other place.