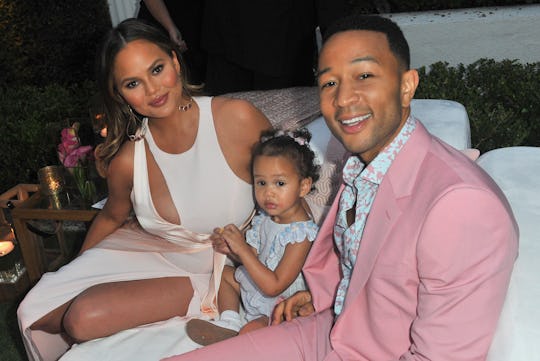 Jerod Harris/Getty Images Entertainment/Getty Images
You're Going To *Love* This Dollhouse Chrissy Teigen Built Luna (& It's Affordable!)
When my daughter was barely of age to appreciate a dollhouse, I spotted a dreamy one at a yard sale and was like, "Claire, you want this dollhouse, RIGHT?" She didn't even answer before I was all, "OK, baby, if that's what you want." Because let's get real: Part of the thrill of having kids is you kind of get a chance to be one again, too. That's why I was thrilled to see photos of these dollhouses Chrissy Teigen built with Luna. And I'm not going to lie I want one — for, um, Claire.
Yes, it turns out that mom-we-can-all-relate-to Teigen and Luna are currently loving dollhouses from KidKraft. The mom and daughter duo had loads of fun earlier this week building the Chelsea Doll Cottage and the Kayla Dollhouse. One photo showed the two using tools to construct a dollhouse, while the other, a video, featured Luna organizing the furniture while Chrissy put together the finishing touches.
"Ideal weekend honestly," Teigen captioned the video.
If you head over to KidKraft.com to check out the various dollhouses the company makes, then you should know that you've been warned: All of your affection for dream homes and tiny furniture will be unearthed and perhaps only satisfied by purchasing everything.
Take, for instance, the Chelsea Doll Cottage ($90) Teigen and Luna are building. At just 2-feet tall, the house includes sweet window shutters, two molded staircases, and plenty of room for as many mini bunk beds your heart desires.
Want to upgrade? Consider the Sweet & Pretty Dollhouse ($140), which is just shy of 4 feet and features three levels and four rooms. Don't forget to take note of the porch area with a working front door and an elevator — yes, an elevator — that takes visitors from the first to the second floor.
Then again, there is the 4.5-foot tall Grand View Mansion Dollhouse ($220), the "luxurious wooden mansion" that boasts 34 furniture pieces and accessories for all of its eight rooms. And, really, it's just something you have to see for yourself.
And if you're going for a modern dollhouse look with all of the classic features you love, then you'll want to check out the So Stylish Mansion Dollhouse ($260). With 360 degrees of play space, the mid-century modern wooden dollhouse stands at just under 4 feet and offers three levels with plenty of room for kids to play together.
There are also other dream-come-true dollhouses that are sold exclusively at retailers like Costco, Sam's Club, Target, and Walmart, including the Grand Anniversary Dollhouse, Disney Princess Ariel Undersea Kingdom Dollhouse, and Glendale Manor Dollhouse. Plus, there's all of the furniture and accessories you — er, your little one — could ever hope for.
And don't forget: There are benefits to playing with your child that exceed your desire to relive the magic of your childhood (although, really, that's a good enough reason). According to Psychology Today, "Parent-child play has been shown to contribute more to a child's ability to give structure to early social interactions than play with siblings."
Parents can also provide their child with a more mature and varied approach to play than other kids, which allows more room for imagination, noted the publication. And if you need one more reason to pull out your best tiny voice and get down on the floor to engage your little one, then Psychology Today also said adults can see a jump in feel-good-hormone oxytocin when they "engage in affectionate play with their infant and when fathers engage in stimulatory play with their infants."
And, really, how can you deny the level of thrill you'll be feeling when you get your hands on those teeny sofas and chairs?