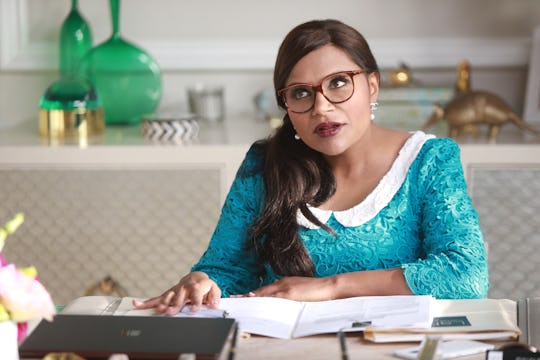 Jordin Althaus/Hulu
'The Mindy Project' Series Finale Will Make You Want To Rewatch The Pilot
Much like Monica and Rachel from Friends, I too get pretty emotional when dealing with the end of an era — especially when that involves saying goodbye to beloved TV shows. The Mindy Project wrapped its sixth and final season this week and to say that I have some strong feelings about it would be an understatement. Not only did it satisfyingly tie up all loose ends, but it also paid homage to its roots in a very special way. There were a ton of Easter eggs in The Mindy Project series finale that all diehard fans are sure to appreciate.
But just in case you're a little concerned you may have missed some of the clear nods to the past — particularly in regards to the pilot — I'm here to lay it all out on the table. After all, it's been quite some time since the very first episode of The Mindy Project made its grand debut on our television screens way back in September 2012. Mindy Lahiri has come a long way since then, which is something that becomes even more evident once you see the side-by-side comparisons of who she was versus who she is today. It'll make you want to go back and rewatch the pilot ASAP.
But hey, you don't have to just take my word for it — let the Easter egg hunt begin!
A Wedding
Just like the pilot included Mindy attending a wedding (of her ex-boyfriend Tom McDougall, played by Bill Hader), the Season 6 finale also centered around the wedding of Morgan and Tamra. She even gave a toast at both receptions — whether she was asked to do so or not. (Hint: only one of these speeches went well.)
The Bike Ride
In what is now an iconic moment from the pilot, Mindy drunkenly fell into a pool while riding a bike. In the series finale, she left Morgan's wedding and took a very similiar route. Except this time, she didn't fall into the pool. Is this a subtle metaphor meant to signify that Mindy now has her life together? Absolutely. (Though this is also proof that it's much easier to ride a bike while sober.)
The Doctor's Lounge Scene
At the end of the pilot, Mindy and Danny share a nice moment of banter, giving fans their first taste of what could come from this dynamic. Sure, they acted annoyed with each other, but deep down there was the tiniest of sparks that viewers immediately picked up on — and it's a relationship that lasted all the way to the end of the series. Much like where they started, Mindy and Danny end up back on that very same couch in the doctor's lounge, sharing a nice moment together. Except this time, fans aren't so much wondering will they or won't they — they're reveling in the hopeful future that lies before them.
Sure, it would be easy to overlook this little nods to the past, but as a society that thrives on nostalgia, I certainly appreciated the effort. I still can't believe this show is now over. I'm going to miss it, but I have to admit that I'm pretty pleased with how it ended. So if I have to say goodbye (and it looks as though I really have no choice in the matter), then at least I can take comfort in knowing that the happily ever after that Mindy so eagerly craved at the start of the series, not only looks possible, but highly probable.
Check out Romper's new video series, Romper's Doula Diaries:
Watch full episodes of Romper's Doula Diaries on Facebook Watch.