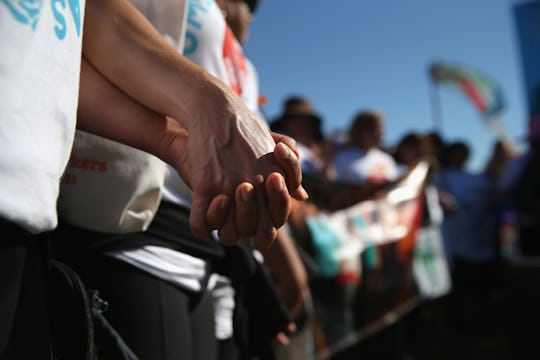 John Moore/Getty Images News/Getty Images
Here Are Powerful Photos From 'Families Belong Together' Protests Across The Country
When news broke that the Trump administration had begun separating immigrant families at the U.S.-Mexico border, the public immediately cried foul. As part of President Donald Trump's "zero-tolerance" policy, adopted this spring, thousands of migrant children have been taken from their parents, and placed in detention centers, while their parents were hauled off to jail, awaiting prosecution — and ultimately, deportation. Outrage swelled over the widespread separation of families, leading Trump to sign an executive order last week ending the practice — but not the policy. In response, activists banded together on Saturday to protest the administration's action, and these photos from the Families Belong Together march will inspire you to take action.
Although the main event is taking place in Washington, D.C., more than 700 cities and towns across the country are hosting their own 'Families Belong Together' protests, according to USA Today. Atlanta, Tampa, Chicago, El Paso, Honolulu, San Juan, Flint, and Fargo are among the cities taking part in the march against Trump's "zero-tolerance" immigration policy.
And people are showing up. More than 30,000 protesters in D.C. gathered across from the White House in Lafayette Square by 11:30 a.m. Eastern Time, according to The Cut. Hundreds of thousands more, including families, participated nationwide. Just take a look at some of these powerful photos:
Government data shows that, since the "zero-tolerance" policy was announced, more than 2,300 children have been separated from their parents at the United States border, according to PBS. Despite Trump's executive order ending family separation, some 2,000 children in government care have yet to be reunited with their parents, PBS reported.
Jess Morales Rocketto, policy director of the National Domestic Workers Alliance, which helped organized the 'Families Belong Together' march, told Vox:
The "zero tolerance" policy is Trump's zero-tolerance policy, and he has the ability to get rid of that policy at any time. So we're not going to stop organizing until the end of the zero-tolerance policy. That's ultimately what created this crisis, and our demand has been so clear from the very beginning that that's what needs to happen.
A federal judge granted a preliminary injunction late Tuesday night, ordering the Trump administration to speed up reunification, according to Vox. Kids under 5 years old must be reunited with their parents within a 14-day within, while all other migrant children must be together with their families within 30 days, the judge ruled. The administration was also ordered to stop deporting parents without their kids unless those parents "affirmatively, knowingly, and voluntarily" agree to be deported alone, Vox reported.
Politicians and celebrities also joined activists at 'Families Belong Together' protests across the country. In Los Angeles, singer John Legend, Democratic Sen. Kamala Harris, Los Angeles Mayor Eric Garcetti, and California Lt. Gov. Gavin Newsom all marched in protest of Trump's "zero-tolerance" policy, as well as his executive order rescinding the policy, according to ABC 7.
Under the president's executive order, immigrant families will no longer be separated, and instead, be detained together, according to The New York Times. What's more, the Trump administration is seeking to hold parents and their children indefinitely by requesting a modification to the Flores settlement, a 1997 consent decree that bars the government from holding families for longer than 20 days, The Times reported.
What will happen to immigrant children who have been separated from their parents is unclear, as the federal government has yet to reveal a clear path towards reunification. But what is clear is from these 'Families Belong Together' photos is that the public does not and will not accept the Trump administration's treatment of these families, and will continue to demand change until something is done — and soon.