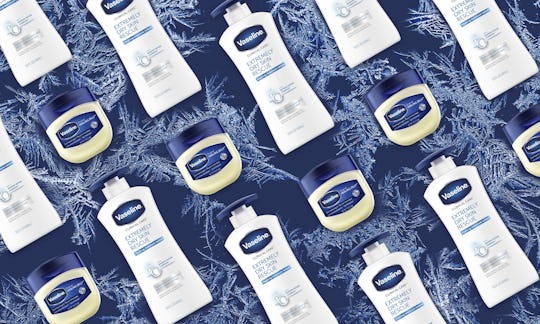 Courtesy of Vaseline
Here's How You Can Get Your Very Own Free Winter Skincare Package From Vaseline
The winter months are here and while much of the country is thinking about holiday shopping and travel plans, there's one thing they hopefully aren't overly worried about — their skin. Harsh, cold, dry winter weather can wreak havoc on skin, causing a ton of pain and annoyances. But there might be an easy way to fix this problem. With one tweet you can get your (dry) hands on some of Vaseline's new products. These free Vaseline winter care packages will transform your dry winter skin.
'Tis the season of giving, after all, and Vaseline is giving away care packages to everyone who tweets @VaselineBrand #SaveMySkin plus the snowflake emoji for free. So, stop your scratching and get tweeting.
Once you do, you'll get a link on where to sign up for your free delivery.
The kit includes the new Clinical Care Extremely Dry Skin Rescue Lotion and the iconic Vaseline Petroleum Jelly, along with a cozy mug and a few board games to make staying indoors a little more fun.
The catch? You only have from Thursday, Dec. 6 at 1 p.m. EST until Friday, Dec. 7 at 8 p.m. EST to tweet and get your free care package.
This promotion is all part of a major roll out of the brand's new Clinical Care Line which features six all-new products designed to soothe, hydrate, and heal. They include:
Extremely Dry Skin Rescue Healing Moisture Lotion
Eczema Care Therapy Cream
Aging Skin Rescue Healing Moisture Lotion
Extremely Dry Skin Rescue Overnight Cream
Dark Spot Rescue Moisturizing Hand Cream
Cracked Heal Rescue Foot Cream
While many people might think that they only need lotion during the coldest, most brutal winter months, the truth is that your skin needs moisture all year long. Other factors ranging from poor sleep habits, to anxiety and even stress can take a serious toll on skin as well, Vaseline said in a press release announcing the launch of the new line.
According to the American Academy of Dermatology, anyone can get dry skin, which is caused by skin losing too much water or oil. But there are a few additional factors of which to be aware:
Age: When you get older, your skin has a tendency to get drier.
Climate: If you live somewhere that tends to be super dry, like the desert, chances are good that you might experience dry skin, at least from time to time, as well.
Skin Conditions: If you have something like eczema or psoriasis, you might notice that your skin is drier than you may like, even if you're not currently experiencing symptoms of your condition.
Job: If you have a job that requires you to wash your hands repeatedly, you might notice that it really dries your skin out.
Swimming: If you swim in a chlorinated swimming pool on a regular basis, that too might cause your skin to become drier.
So, if you have winter skin that's in desperate need of hydration and healing, all you need to do is tweet in order to try to alleviate your symptoms — you don't even have to leave the couch. After all, you'd have to brave that cold winter air in search of relief, so sending a tweet and waiting for a package to show up might not sound like a bad idea.
This first-time mom wants to have a home birth, but is she ready? Watch how a doula supports a military mom who's determined to have a home birth in Episode One of Romper's Doula Diaries, Season Two, below. Visit Bustle Digital Group's YouTube page for the next three episodes, launching Mondays in December.