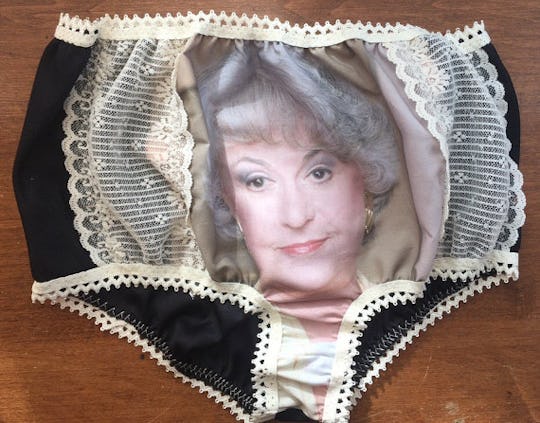 BulletsandBees/Etsy
These Golden Girls Granny Panties Are Basically Everything
It's almost that gifting time of year... but what do you buy the person who has everything? If they also have impeccable taste, you should definitely get them an incredible Golden Girls Granny Panties from Etsy. Because seriously, guys; sexy underwear is so overrated. Gigantic, high-waisted underwear decorated with the beautiful faces of Dorothy, Rose, Blanche, or Sophia are practically priceless. Why wouldn't you want to own a pair?
OK, so they're not exactly priceless. Each pair goes for about $40; but it seems completely worth it to be able to channel the Golden Girls all day long, right? And, speaking of channeling the Golden Girls, yes, the Blanche pair is crotchless because, well, it's Blanche. Live a little, as Blanche would say.
The genius behind these mentionable unmentionables is Candice Pugh, who sells the underwear on Etsy from her Utah home because she's livin' the dream. Besides the Golden Girls undies, she also makes other designs — like Star Wars, Feel The Bern, Our Lady of Guadalupe, and an amazing pair made entirely of images of Ryan Gosling with kittens. What's not to love about that?
Honestly, I'm tempted to put my address at the end of this post in the hopes that someone out there sends me some; but I guess that seems a little unprofessional. Instead, I'll just say happy gifting. If you want to show someone you really care, you know what to do. Just do everyone on your list this year a favor and get them a pair of granny panties. Trust me on this one.
Image: BulletsandBees/Etsy