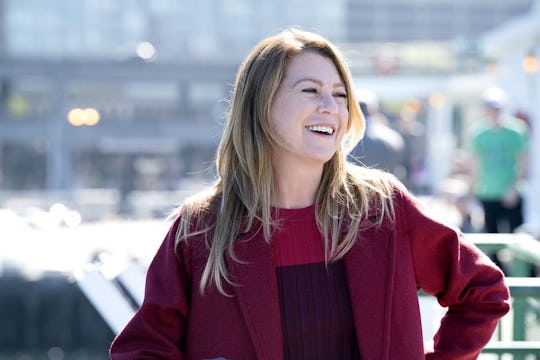 Derek Johnson/ABC
These 'Grey's Anatomy' Easter Eggs From The 300th Episode Will Give You A Serious Case Of Nostalgia
Grey's Anatomy celebrated a huge milestone in Season 14 with an episode title appropriately in reference to Hamilton: "Who Lives, Who Dies, Who Tells Your Story?" It's the series' 300th episode, which it celebrated with plenty of throwback easter eggs, including rebuilding the original members of MAGIC with the help of some doppelgangers. In fact, every Grey's Anatomy Easter egg from the 300th episode will take you on an emotional rollercoaster.
Speaking of rollercoasters, one at a county fair happens to be the culprit behind a massive incoming trauma this episode, when a car goes careening off the tracks and crashes into other fairgoers. Two rollercoaster riders are transported to Grey-Sloane Memorial, car and all, to try and extricate them in the safest way possible. Turns out, they're hospital interns at the nearby Seattle Presbyterian! And they have a pregnant friend in tow. And their names are Greg, Cleo, and Liza. Starting to sound familiar? Yup, Greg is the spitting image of George, Cleo has Cristina written all over her, and Liza rounds out the cast as the Izzie of the group. This obviously gets Meredith, Alex, Bailey, and Webber all up in their feelings for the remainder of the episode. Here are all the easter eggs lovingly tucked inside.
The Original Intro Theme
Although we didn't get a reprisal of the original opening credits, the show did use a small snippet of Psapp's "Cosy in the Rocket" — Grey's Anatomy's original theme song before it ditched opening credits in favor of a title card — at the end of the cold open.
The Doppelgangers
Greg, Cleo, and Liza more than just look like George, Cristina, and Izzie — they are them. Greg is kind of slow and doofy — "the bottom third of his class," according to Cleo. Cleo, meanwhile, is the low-affect know-it-all. And Liza has all of Izzie's perky, bubbly personality.
"Seriously?"
The show brought back its signature, oft-repeated catchphrase from MAGIC's intern year, first uttered by Liza, who nailed Izzie's original delivery. In fact, this freaks Alex out so much that he begs Jo not to say the word.
The Music
Grey's Anatomy has always been known for how it integrates music into its world and the show masterfully uses covers as callbacks during significant moments. So of course, the 300th episode was dense with musical memories. The show opened with a cover of "Young Folks," the original Peter Bjorn and John version of which we heard back in Season 3, Episode 6. We also hear "They," by Jen and "Keep Breathing," by Ingrid Michaelson which have been used before. One of the episode's final songs is "Portions for Foxes," by Rilo Kiley, which is the first song of the whole series that plays in the pilot.
The Interns' Page Sequence
One of the coolest moments from episode 300 is a sequence that mirrors the original interns getting paged in the pilot. The new interns hang out in exactly the same tunnel MAGIC did during their downtime, and when they get a page, they all scramble for it. The intern known as "Glasses" even trips on his way, just like George did. Later, they run across the catwalk where Meredith and Alex tell them to slow down, just like they were told to do as interns in the pilot.
Amelia Avoids The Mistake That Killed Her Brother
Derek died because a neurosurgeon failed to push for a head CT before he went into surgery. Owen wants to skip it for a patient before he goes into surgery, but Amelia basically forces one on him and saves his life.
Alex and "Izzie"
Another shot-for-shot throwback comes when Alex carries the pregnant and passed out Liza, just like he carried Izzie after Denny died. He also befriends Liza while she stresses out over the surgery she needs, obviously reminiscing about Izzie.
Surgical Royalty
Cleo calls Meredith and Jackson surgical royalty, which is exactly what the interns called Meredith's mom in the pilot.
A Family Reunion
While they don't actually come back for the episode, we catch a glimpse of Mark and Callie when Sophia comes back to live with Arizona in a closeup shot of a framed family photo. Arizona also does an impression of him while delivering Liza's baby.
Ellis Grey Returns
Meredith wins the Harper Avery Award, a fact she learns though a live feed in the OR because she refused to leave her patient to attend the ceremony. When she looks up to the gallery, where all her colleagues stand and clap for her, we see a glimpse of her dead mother Ellis Grey among the white coats, smiling and clapping for her daughter.
MAGIC's Shoutout In The Closing Monologue
In the final moments of the episode, Meredith and Alex return to the tunnel to celebrate her Harper Avery win with a bottle of champagne. They kick the interns out just as Meredith gets a call from Cristina to complete the reunion. And as if that's not heart-warming enough, there's even a subtle shoutout to MAGIC — the acronym referring to the five original interns, Meredith, Alex, George, Izzie, and Cristina — in Meredith's closing monologue. She says in her final voiceover, "Scientist or not, most of us who have been at this awhile are forced to acknowledge the mysteries of life. We are forced to acknowledge that certain kinds of magic exist — and that history, and memory, and the ghosts of our past are sometimes just as tangible as anything we can hold in our hands."
No, you're crying!
Check out Romper's new video series, Romper's Doula Diaries:
Watch full episodes of Romper's Doula Diaries on Facebook Watch.