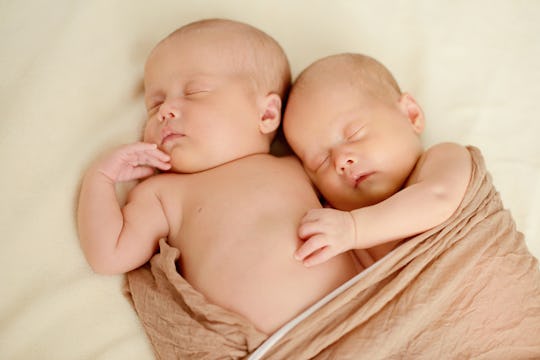 Fotolia
These Identical Twin Moms Delivered Their Sons On The Same Day, In The Same Hospital
Going through pregnancy, labor, and delivery can be much more manageable with friends and family around you. But imagine delivering your child with the person closest to you in the world, going through the same experience at the same time. That was the reality for these identical twins who delivered their sons on the same day.
Twin sisters, Jalynne April Crawford and Janelle Ann Leopoldo, were overjoyed to discover that they were pregnant at the same time. Crawford got the news of her pregnancy, and then four days later Leopoldo called to tell her that she, too, was expecting. "When I got the text my face lit up," Crawford told People. "I got chills in my arm and then seconds later she called and we were both like 'Thank you, thank you God."
She went on to explain that remembering the experience was making her tear up. "I was like 'this is God's way of answering our prayers.'" Answered prayers, indeed. The road leading up to their pregnancy had not been an easy one. Both sisters had experienced fertility struggles, according to She Knows. Leopoldo, who has polycystic ovarian syndrome, struggled to conceive and went on to have an ectopic pregnancy. Crawford, too, had no easy time getting pregnant. Her successful pregnancy alongside her sister came after two miscarriages.
Both women learned that they were expecting sons, but their pregnancies were separated by miles. Crawford lives in Arizona with husband Brandon Michael Crawford, who plays for the San Francisco Giants, while Leopoldo lives in California with her husband Jason Sergio Leopoldo, according to AJC. Unfortunately, due to the distance between them, their parents couldn't attend both births. To bring the family together to welcome the two new arrivals, the sisters arranged with their doctors to deliver on the same day in Arizona.
Crawford explained to People that they delivered full-term:
We both made it to 39 weeks and made it to our scheduled delivery day. We knew we wanted to have it on the same date so our parents could be there.
When they approached Crawford's doctor about delivering on the same day, he was onboard with the plan. "He said it was fine, they were the same gestational age and due within a week of one another," Crawford said. Along with allowing the sisters to deliver, elective induction at 39 weeks can benefit both mother and baby. According to MD Edge, inducing at 39 weeks can reduce women's risk of cesarean delivery by 16 percent and pregnancy-related hypertensive disorder by 36 percent.
Once the doctors gave the green light, Leopoldo and her parents headed to Arizona six weeks prior to the sisters' due date. The went into the hospital on June 18, People reported, and Crawford delivered in the morning, followed shortly by Leopoldo — as was the plan, Crawford said told People:
Everyone always asks how we decided who got to go first. Well, I was born first and got pregnant first. Plus my husband only gets three days of paternity leave.
Following delivery, the families were then moved to recovery rooms next to one another that allowed the grandparents easy access to both of their new grandsons.
Three months later, the women say that their sons, Bryson Ryder and Jace Alan are "best friends already," according to People. What's next for the happy families? Well, Crawford feels that her family is "complete" following the amazing experience with her sister. But Leopoldo and her husband would like to have four kids, so they plan to continue to grow their family. After so much struggle and hardship, how wonderful that the twins were able to become mothers literally side-by-side. Congrats to the entire family!